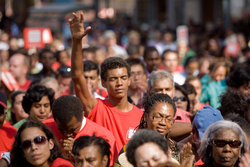 There seems to be recognition in many people throughout the world that this is a momentous time, although many people may not fully understand why
New York, NY (PRWEB) September 17, 2009
On Sunday, September 20, 2009 at 3:00pm, 30,000 people representing 327 churches and 65 youth organizations of every denomination are expected to converge in New York City's Times Square to pray for our nation. An estimated one hundred college ministries as well as churches in 28 states and 21 countries around the world, including Indonesia, Pakistan, Ireland, Burundi, Kenya, Mexico, Germany, Peru, United Kingdom, Benin, Singapore, and Israel will be praying and gathering via the live webcast at http://www.nycprayer.org.
"There seems to be recognition in many people throughout the world that this is a momentous time, although many people may not fully understand why," says Carter Conlon, Senior Pastor of Times Square Church, which is organizing the event. "We are coming together for one hour of public prayer in Times Square in obedience to God. In the Bible, Daniel, a prophet of God, prayed on behalf of a people who had sinned. He prayed explicitly for mercy and forgiveness. We will gather in humility to pray and ask God for forgiveness on behalf of our nation. I believe we will see the fulfillment of why God has asked us to pray," adds Conlon.
A 180-voice gospel choir will sing between three-minute intervals of prayer. Ten people, including church leaders, as well as individuals from different walks of life, will pray for three minutes each. The event will be broadcast live on Christian radio station STAR 99.1 FM (New York), and Radio Cantico Nuevo (Spanish language, New York).
About Times Square Church
Times Square Church is an inter-denominational, multinational congregation, located in the heart of New York City, at 51st Street, between Broadway and Eighth Avenue, founded by Rev. David Wilkerson, author of the best-selling book "The Cross and the Switchblade." Over 8,000 people, representing more than 100 different nationalities, gather to pray together each week, finding true unity is possible through Jesus Christ. For more information, please visit http://www.tscnyc.org.
# # #