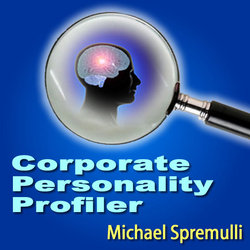 The end result for companies is better hires, lower turnover, and increased profits.
Valdosta, GA (PRWEB) July 15, 2008
As the sluggish U.S. economy continues to fuel layoffs and unemployment, more Americans than ever are in the job market. Companies are being crushed by the weight of thousands of résumés and are finding themselves inundated with unqualified job applicants. Corporate personality profiler Michael Spremulli profiles job applicants much like an FBI profiler would. His expertise is helping companies weed out unqualified applicants and identifying top-performing candidates for the position.
"Having an abundance of job applicants actually creates a huge opportunity for savvy companies to hire and retain top performing talent - provided they know what to look for. I know exactly what to look for," Spremulli said. Michael's clients refuse to hire someone without his input. When clients ignore his advice, they regret it, because a costly hiring disaster often occurs. Michael is president and CEO of The Chrysalis Corporation and founder of CorporatePersonalityProfiler.com
"If companies put a system in place now, this downward market can provide them with some of the best choices of talent the workforce has seen in a long time," Spremulli says.
Michael combines his expertise, experience, and advanced training in personality profiling with a proprietary battery of pre-employment assessments that predict, with pin-point accuracy, the probability of an applicant being successful in the position they are applying for. His extensive assessment process reveals detailed and eerily accurate information about an applicant's personality traits, motivators, behavior, and abilities. When companies are armed with this data, they are able to ensure the best possible fit between an applicant and the position, and avoid costly hiring disasters.
Spremulli and his team of profiling experts do not simply dump a bunch of pre-employment test results in a client's lap, but rather Sherpa them through a detailed interpretation process. "We go the extra mile to ensure that each client has the right assessment process in place to meet their unique needs - whether they are hiring associate level staff, sales professionals, or executives," Spremulli said. "The end result for companies is better hires, lower turnover, and increased profits."
Michael is an experienced, credible, engaging, and fun media guest. He is available for radio, telephone, and print interviews throughout the U.S. -- serving as an expert on the following topics:
--Corporate personality profiling.
--How to hire top performers and reject the slackers in a sagging economy.
--Dealing with blockhead bosses and cranky co-workers.
--Predicting employee behavior.
--Finding a job during a recession.
--How to avoid hiring people with "problem" behaviors.
--Identifying a person's hidden motivators.
Contact:
Michael Spremulli
Corporate Personality Profiler
Web site: http://www.CorporatePersonalityProfiler.com
E-mail: interviews AT CorporatePersonalityProfiler.com
Phone: 229-257-0665
###