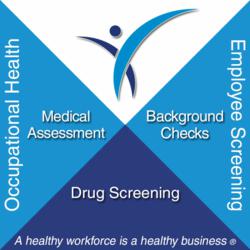 Mobile Health is a New York pre-employment screening company specializing in drug tests, background checks, and pre-employment exams. Their 6 locations served over 250,000 individuals from 350 organizations.
(PRWEB) March 18, 2013
On March 21st at 2pm, Jason Roberts - Sales Director of Mobile Health, will introduce a new employee screening program called All in One Pre-Employment Screening via a webinar. This feature will allow clients to request a complete background check report and up to 13 panel drug testing. Companies interested can sign-up at https://www3.gotomeeting.com/register/601563102
Previously, many businesses had to utilize a Third Party Administrator (TPA) to process similar pre-employment screening solutions. After this announcement, companies will only need Mobile Health and their robust electronic medical record (EMR) client portal to manage the entire screening process. Through the portal, clients can schedule appointments, request background checks, review results, browse reports, and perform many other features to simplify the recruit to hire process.
Unlike a TPA, Mobile Health owns and operates 6 medical centers across New York City and Long Island which are used for drug screenings, pre-employment exams and other occupational health services. From the appointment setting to receiving results, Mobile Health is the primary contact and provider.
During the webinar, Jason Roberts will review the importance of a complete employee screening program and how Mobile Health's FCRA compliant reports are a perfect match. When combined with a drug screening program, the All in One Pre-Employment Screening program comes to life. Once the lab results are in and criminal records checks, the HR administrator will have a complete profile of the applicant and have the tools available to make a calculated hiring decision.
The importance of such a complete screening solution involves proper due diligence, regulatory requirements, and overall best practices. There are many legal stipulations regarding pre-employment background checks, and if an employer is not compliant, the FCRA can impose severe civil penalties. In addition, Jason will review which reports are best depending on your company, the position and the applicant. Relying on outdated or inconsistent reports may place your company in jeopardy by hiring individuals without a thorough review.
Background checks are provided by Sterling Infosystems, and all Mobile Health drug collection and testing is done by their 6 locations in New York City and Long Island.
Mobile Health is a New York pre-employment screening company specializing in drug tests, background checks, and pre-employment exams. Their 6 locations served over 250,000 individuals from 350 organizations. http://www.mobilehealth.net