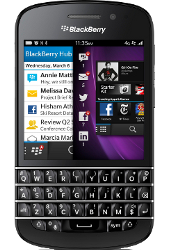 There is a positive air of anticipation around the smart phone. In such a scenario, being a proactive service provider, Before You Buy UK Ltd is now offering an Email notification service to our customers who are inclined towards pre-booking of the Q10.
Gainsborough, Lincolnshire (PRWEB UK) 26 March 2013
Research In Motion, the corporate enterprise that owns the smart phone brand Blackberry is in full swing. Battling some tough economic conditions and sustained decline in revenues quarter on quarter, the organization is now in fire fighting mode. RIM probably realizes that their backs are against the wall as they try and overhaul a tough competition from the established players in the highly competitive smart phone arena. Nonetheless, Blackberry too enjoys customer loyalty to a large extent, but that number is certainly shrinking and its about time that RIM addressed this concern.
The latest offer from Blackberry the all new Blackberry Q10 is a revolutionary smart phone that may just hold the key to success and return of one-time darling of the industry. The Q10 boasts of impressive feature lineups starting from the Blackberry 10 OS, an attractive and responsive QWERTY keyboard, the Q10 has all that a Blackberry user looks for. What's interesting though is that this is Blackberry second major launch in as many months.
Mr. Joseph James, Director, Before You Buy Ltd said, "RIM (Blackberry) enjoys a unique customer loyalty in the market. To ensure that the Blackberry fans don't feel missed out on booking their Q10, we thought of getting them pre-booked for our customers. The pre-booking will tentatively start latest by the end of April. However, to make sure the customers looking for pre-bookings get the first mover's advantage, we invite our visitors to register for our email notification service. Once an individual registers for this service, an automated notification will be sent by Before You Buy UK Ltd as soon as the Blackberry Q10 is available for pre-bookings."
Before You Buy UK Ltd, the online mobile contract comparison website has always been at the forefront of adding value to its online visitors. In this recent attempt, it is focused on increasing the experience value for its customers. By rendering the email notification services for the pre-booking of Blackberry Q10, Before You Buy UK Ltd has ensured that consumers who may be inclined towards the Q10, but circumspect about best deals being available on the product, can register themselves and get notified for the Q10 as and when the device is up for grabs in the UK market.
"RIM is counting big on the Blackberry Q10. The initial reviews and expectations are quite high. Our market research team suggests us that this may just be the game changer Blackberry was looking for. The incredibly easy user interface of the Q10 may just redefine the smart phone experience for the consumers. In such a scenario it becomes imperative for a service provider like Before You Buy UK Ltd to make each and every detail including pre-booking of the Q10 available to its customer." Mr. Joseph James, Director, Before You Buy UK Ltd said.
For more information and indepth analysis of the deals on offer please visit http://www.beforeyoubuy.co.uk. The organization also extends an invitation to visit its official Facebook page at http://www.facebook.com/beforeyoubuyuk.