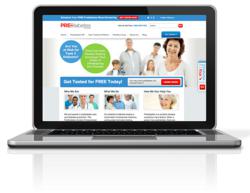 Austin, TX (PRWEB) March 26, 2013
PreDiabetes Centers, the national leader in personalized prediabetes treatment, is pleased to announce the launch of its newly enhanced website. The vibrant, user-friendly site offers visitors quick access to essential information on prediabetes symptoms, risk factors and cutting-edge treatment methods.
The website boasts easier navigation and an engaging, colorful design that allows readers to gain a comprehensive understanding of prediabetes, a fast-growing disease in the U.S. that occurs when blood glucose levels are elevated but not high enough for a type 2 diabetes diagnosis.
The new website features expanded content and streaming media, including a collection of short educational videos that explain the importance of hormones and their role in the development of prediabetes and diabetes.
At http://www.PreDiabetesCenters.com, visitors can learn about associated conditions of prediabetes, get information on complimentary prediabetes blood screening, and read up on easy diabetes-prevention tips. Additionally, visitors will get the latest on prediabetes news, learn about foods that help manage and reverse prediabetes, and read client testimonials on the site.
Special features include simple, one-click navigation to a 2013 Diabetes Risk Survey–a score-based assessment that helps people learn if they are at increased risk for type 2 diabetes–and easy access to a scheduling tool that allows people to book a free prediabetes blood test at a local center.
The Company's popular diabetes prevention blog, called "The PreD Blog," is also accessible on the site.
Additionally, the site features a special Client Portal that allows clients to review lab work, review educational materials, schedule an appointment, and communicate with their PreDiabetes Centers health team.
Visitors also have the ability to search for a PreDiabetes Center near them.
Prediabetes is the precursor to type 2 diabetes and can raise a person's risk for many serious complications, including cardiovascular disease, stroke, kidney damage and eye problems. More than 79 million Americans have prediabetes, and most are unaware of their condition. About 11% of people with prediabetes go on to develop type 2 diabetes within three years. According to the Centers for Disease Control and Prevention, as many as 1 in 3 adults could have diabetes by 2050.
PreDiabetes Centers is a private company based in Austin, Texas, that specializes in the prevention and treatment of diabetes. Treatment at the Center is customized for each client and is based on physician-directed care and lifestyle intervention. The company offers free biomarker blood testing that can detect prediabetes, and also continuing biomarker tests throughout the personalized program to ensure that metabolic processes in the body related to prediabetes are being reversed.