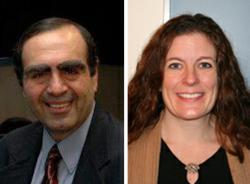 [We] identify people who have prediabetes... and put them on the road to healing.
Austin, TX (PRWEB) March 21, 2013
PreDiabetes Centers physicians Dr. Andre Garabedian and Dr. Lauren Loya discussed the epidemic of prediabetes and the importance of treating the condition early on an audio podcast show on FTNS Fitness Radio. Both doctors lead specialized diabetes prevention teams at PreDiabetes Centers, a national provider of personalized prediabetes treatment to prevent type 2 diabetes.
Dr. Garabedian and Dr. Loya addressed the dangerous contributing conditions that can lead to prediabetes and diabetes on "The Diabesity Solution" audio podcast, which aired at 4pm on Tuesday, March 19. "Diabesity" is a moniker for the combination of diabetes and obesity, two conditions that are preventable and curable.
Prediabetes has spread rapidly in the Western world, which has led to a greater awareness of prediabetes in the last 10 years, said Dr. Garabedian. It's crucial for people to catch prediabetes before it progresses to advanced stages.
"Diabetes is a major problem," cautioned Dr. Garabedian. "It's much more than blood sugar levels: It's associated with remarkably complicated and extremely serious diseases, such as cardiovascular disease," he said.
Dr. Garabedian explained that there are ways doctors can detect prediabetes before it progresses to type 2 diabetes.
Research shows that there are small biological changes that occur in an individual before he or she becomes diabetic, said Dr. Garabedian. "This could include abnormal sugar levels, micro changes in hormones, and some serious changes in fat and cholesterol," he said.
Poor sleep is another factor that's associated with prediabetes. "There are huge connections between sleep and abnormalities in blood sugar," said Dr. Loya. Many patients have problems such as sleep apnea, which might be a symptom of prediabetes, she said.
"What makes PreDiabetes Centers so unique is that we specifically treat prediabetes," said Dr. Garabedian. "The role of our Center is to identify the greatest number of people who have prediabetes and try to address their [contributing health problems] and put them on the road to healing," he said.
PreDiabetes Centers offers a free test that measures several biomarkers, or chemicals and proteins in the blood. Fasting blood sugar and hemoglobin A1c are important biomarkers that the Center tests, but there are many other biomarkers that can help provide more expansive insight into the multiple factors contributing to a person's prediabetes diagnosis.
"For example, we want to look at the degree of inflammation in the body, so we look at [the biomarker] C-reactive protein, or CRP," Loya explained. "Inflammation is at the base of 80%-90% of chronic disease," and it also plays a role in the development of prediabetes, she said.
Cholesterol is also important, she said, especially measuring types of lipids that typically aren't measured in standard cholesterol tests, such as VLDL cholesterol and non-HDL cholesterol. "The smaller and denser they become, the more dangerous they are," Dr. Loya said. Examining these different biomarkers can help increase the effectiveness of a prediabetes treatment plan.
Dr. Loya notes that it takes a lot more than medication to stop diabetes in its tracks.
Treating prediabetes or diabetes with medication alone is like putting "a Band-Aid on a problem," said Dr. Loya.
PreDiabetes Centers takes a different approach with its use of integrative, comprehensive remedies–with minimal use of medication–to treat the cluster of negative conditions that cause prediabetes.
"When we do that, we get much more powerful results than addressing any one condition alone," said Dr. Loya.
Dr. Loya encouraged people who feel they may be at risk for prediabetes to get screened immediately by calling 1-855-399-7733 (PRED).
Dr. Loya is a top Pittsburgh-area physician with a special interest in hormone optimization and chronic disease. She was appointed Medical Director at PreDiabetes Centers earlier this year. Dr. Loya meets with patients at the PreDiabetes Center of Pittsburgh at 2541 East Carson Street.
Dr. Garabedian is a prominent physician specializing in chronic disorders and has practiced family medicine in the King of Prussia area for more than 30 years. He meets with clients at the PreDiabetes Center of King of Prussia, located at 491 Allendale Road, Suite 222.
More than 79 million Americans have prediabetes, defined as blood glucose levels that are high but not yet high enough for a diabetes diagnosis. People with prediabetes are likely to develop type 2 diabetes, a condition that can damage multiple organ systems and increase risk for heart disease, stroke, kidney damage and nerve damage.
PreDiabetes Centers is a private company based in Austin, Texas, dedicated to the prevention and treatment of diabetes. Treatment at the Center is based on physician-directed care and lifestyle intervention tailored for each client. The company offers a 12-month personalized program that treats prediabetes and its associated conditions, and uses advanced biomarker testing to monitor specific processes in the body associated with prediabetic conditions.
Connect with PreDiabetes Centers on Facebook and the PreD blog.