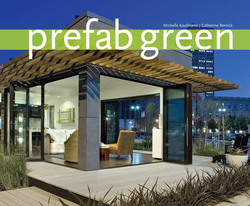 Oakland, CA (PRWEB) February 18, 2009
In Prefab Green, award-winning green architect and sustainable living expert, Michelle Kaufmann, michellekaufmann.com, shares her vision of creating thoughtful sustainable design for everyone. Since 2002, Michelle Kaufmann Designs, Kaufmann's full-service design/build architectural firm, has been a pioneer in using off-site modular technology and prepackaged green solutions as the means to creating beautiful, eco-friendly homes and multi-family developments.
From her five eco-principles -- smart design, eco-materials, energy efficiency, water conservation, and healthy environment--that guide every design her firm creates to hundreds of beautiful photos documenting each step of the design process--from factory to completion--Prefab Green demonstrates how one woman has set out to make homes that make a difference.
Read the stories behind many of Michelle Kaufmann's homes and learn how personal prefab can be. Also, take a look inside the Smart Home, the mkSolaire(R) built on the grounds of Chicago's Museum of Science and Industry, and learn about Michelle's commitment to using her homes as education and a tool for advocating sustainable living.
A section on off-site modular technology maps out the advantages of prefab home building, including:

Time savings--Prefab homes are 30% quicker to build than conventional homes.
Reduced waste--Building in a factory setting reduces waste 50-70%.
Quality control--The controlled environment of the factory means materials are never exposed to the elements.
It's green--Building in the factory means less gas is used in transporting labor and materials to and from the site. Plus, each home is designed and built using eco-friendly materials and long-lasting, low-maintenance systems.
Prefab housing is enjoying a revival thanks to Kaufmann and a handful of innovative architects and shelter magazines. In its new incarnation, which is light years from the images of trailer parks the term previously conjured, prefab is catching the eye of design-conscious consumers who appreciate its style and efficiency. Prefab Green demonstrates how Michelle Kaufmann has helped create a movement that caters to people who want homes that are affordable, enduring, healthy, and environmentally sound.
Prefab Green can be purchased at Amazon.com and Barnes & Noble as well as specialty bookstores, including Builders Booksource (Berkeley, CA), Rizzoli (NY), and the bookstore at the San Francisco Museum of Modern Art.
After receiving her master's degree from Princeton University, Michelle Kaufmann (AIA, LEED® AP) worked for renowned architects Frank Gehry and Michael Graves. In 2002, she founded Michelle Kaufmann Designs. Michelle's work is widely published and her homes have been showcased in a number of museums, including National Building Museum, the Vancouver Art Center, MOCA in Los Angeles, and Chicago's Museum of Science and Industry. Michelle lives in a Glidehouse® in Marin County, CA.
Visit Michelle's blog at http://www.blog.michellekaufmann.com. Learn more about Michelle by following her on Twitter @mkaufmann, or joining the Michelle Kaufmann group on Facebook.
Catherine Remick is a designer with experience in architecture, graphics, and fine arts painting. She holds a master's degree in architecture and has worked as a staff architect and designer for several national firms in San Francisco and Washington, D.C. Catherine lives in Orinda, CA and is about to move into the first completed Sidebreeze™.
###