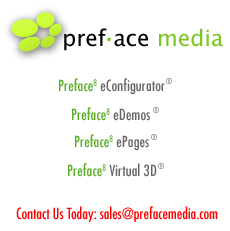 Dallas, Texas (PRWEB) March 12, 2009
Preface Media, developer and host of rich media Web applications, announced today new Preface8 eDemos solution. Preface8 eDemos feature self-contained mini-web pages on which customers can learn all about the features and specifications of the catalog products through text, images, video, audio, and Adobe Flash rich media. Each eDemo is encased in an elegant Flash-based skin that presents a user-friendly and engaging interface that invites the customer to explore all aspects of the featured product. eDemo skins can be customized to match the brand identity of the featured product.
Some of eDemo elements designed to catch the customer's attention are clickable hotspots overlaying the product image, voiceovers for hotspots and product videos, and integrated award-winning rich media solutions from Preface Media, including eConfigurator and Virtual 3D. Because all individual elements of an eDemo, including streaming video, are loaded on demand, the response time of the Preface8 eDemo is instantaneous, making for a fulfilling rich media user experience. Preface8 eDemo not only lets the customers explore every aspect of a product, but does so without putting any new burden on the retailer. Preface Media will adapt existing image, video, and voice assets, incorporating them together with custom Flash design in a self-contained eDemo. And as a leading design consulting company Preface Media will create any new required multimedia to complete the eDemo.
With the cost of a full-featured small video editing studio consisting of a personal computer, video editing software and a high-definition camera below $3000, voice and video is now within the budget of any business, large or small. Many businesses that have never considered producing video advertising because of its costs now find themselves empowered to do so. Preface8 eDemo delivers this video message with pinpoint precision to the visitors of the specific product web pages. Implementation is as easy as uploading all the assets to Preface8 Platform and within a few days receiving the finished product. The eDemos Solution will always fit within your budget, and whether it is $1000 or $100,000 Preface Media will deliver the best return on investment for your business.
Features

Flash Introduction: Custom Flash animation on startup to produce a WOW effect on your customers
Custom Flash/Static Template: Seamlessly blend into existing branding and web site layout
Video Encoding: Converts existing video to online Flash streaming video format for faster downloads
Voice-over: Produce professional studio quality training videos or product demonstrations in localized accent or language
Zoom / Pan: Host high resolution images for product close ups
Detailed Content: Incorporate original documentation such as usage guides, assembly drawing or detail product specification in PDF or Word format
Virtual Tour: Add Preface8 Virtual3D to showcase the product from different angles. Minimum 6 images
Add-on: Enhance online shopping experience with Tell-A-Friend, Add-to-Cart, and Print Tear Sheet
Browser Compatibility: Enhance user experience by providing compatibility across major browsers
To find out more about Preface8 eDemos solution, and see samples, click here.
About Preface Media, Inc.
Preface Media Inc. provides client care, technical expertise, creativity, and integrity for Web applications. We develop and host custom dynamic Web content solutions that seamlessly integrate into your existing infrastructure and bring your business to life. The Preface8 platform offers robust architecture for flash enabled product configurations, catalogs, digital publications, virtual 3D presentations and rich media solutions. With experienced consultants and employees throughout the USA and Asia, Preface Media provides businesses with state-of-the-art knowledge and a full range of creative services.
Contact:
Jessica Washington
Preface Media, Inc.
Tel: 972.444.8462
Fax: 866.616.9556
Web Site: http://www.PrefaceMedia.com
# # #