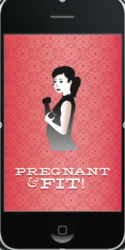 Simple directions from a real trainer with real pics and descriptions.
Oakland, CA (PRWEB) November 27, 2012
Exercising while pregnant can be daunting. A woman's body is no longer just hers. Priorities immediately change and caution becomes the first concern. It is for these reasons that Brooklyn Academy Roots created an iphone app for pregnant women so that women have a knowledgable resource to turn to when wanting to workout during pregnancy.
Unfortunately, most people in our culture are disassociated from our bodies. When pregnant, this is a great opportunity for women to become more in touch with their bodies. Pregnant and FIT! focuses on body awareness, core strength, breathing, posture and correct form while exercising to ensure proper alignment.
Stretching, movement and exercise highly impact a woman's pregnancy experience. Pregnant and FIT! uses video and audio to effectively help its viewer learn more about her changing body and how to stay healthy while pregnant. As the user personally customizes her workouts, she learns more about fitness and about herself.
--Mindy Berla is a Nutrition Consultant and Personal Trainer at her studio, Brooklyn Academy Roots in Oakland, CA. Mindy has helped 100's of people reach their fitness goals in New York City, San Francisco and the East Bay. Mindy specializes in helping women get healthy and strong at any age and at any fitness level. She has helped numerous pregnant women stay in shape and also get back into shape after baby, including herself.