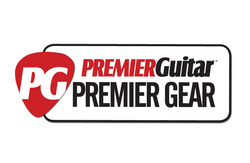 Mount Vernon, IA (PRWEB) December 4, 2008
Paying homage to some of the M.I. industry's most illustrious new gear, Premier Guitar has unveiled the Premier Gear Award for outstanding guitar products. The newly created award makes its debut in the December 2008 issue of Premier Guitar.
The December edition features a major year-end retrospective in which PG editors salute a total of 44 exemplary products with the Premier Gear honor. The showcased products span a wide range of categories and are chosen for key attributes such as innovation, quality, versatility, value and vibe.
Explaining the concept and criteria for the Premier Gear awards, Premier Guitar's Editorial Director Joe Coffey said: "If our Premier Gear Awards write-up reads like a bunch of tonehounds sitting around talking about the best gear they played all year, it's because that's what it is. We put more than 200 new products to the test in '08 -- playing them on stage, recording with them, taking them apart, A/B'ing them with classic gear -- and these are the products that blew us away. Some gear pioneered new ground, while some reinterpreted the classics. Some specialized in doing one thing very, very well while others showed they were versatile as hell. Today's active guitarists approach gear from many different directions so that's how we approached the task of awarding the best gear of 2008."
Guitarists can read the Premier Gear Awards story online and see the entire list of the 44 outstanding products cited in the December 2008 issue. Premier Guitar is also promoting the awards feature with an online banner campaign, drawing extra attention to the showcased products.
Award recipients are welcome to use the Premier Gear logo for free on their Web sites and promotional materials. Premier Guitar feels that honorees deserve to have open access to the logo - unlike some other media corporations - and PG will not charge any licensing fees for legitimate use of the Premier Gear logo by its honorees. Award-winning manufacturers can contact Premier Guitar at info@premierguitar.com for free usage of the logo shown here.
The Premier Gear award is a new way for Premier Guitar to alert guitarists about high-quality products, reinforcing PG's role as a vital resource for its fast-growing worldwide audience of gear hounds and tone junkies.
Every day Premier Guitar attracts a growing multimedia readership of guitarists hungry for new gear. They rely on PG's print magazine, online magazine and PremierGuitar.com Web site for in-depth product coverage. Premier Guitar gives them what they crave, exactly how they like it and where they want it. The new Premier Gear award adds to PG's unique multimedia role in serving this community of dedicated players.
About Premier Guitar:
Offering guitarists a multimedia source for news, gear info and education/instruction, Premier Guitar is the media home for players who are serious about their tone. PG's gear-centric print magazine has a monthly circulation of 32,000 complemented by the industry's only complete, freely accessible online magazine (http://digital.premierguitar.com) that attracts more than 25,000 monthly visits, 40% from an international audience; a Web site (http://www.premierguitar.com) that's the fastest-growing portal in the guitar industry with more than 350,000 unique visitors and 6 million page views every month; and the market's leading interactive gear search service that attracts more than 200,000 monthly visitors. With nearly 50,000 pieces of gear, players can find, buy and sell gear on Gear Search (http://www.premierguitar.com/gear/gear_search.aspx). Published by Gearhead Communications, LLC, Premier Guitar is employee-owned and based in Mount Vernon, Iowa with offices throughout the U.S.
###