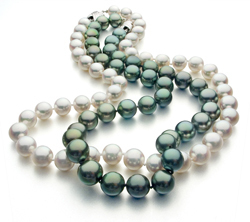 We understand why purchasers may be reluctant to buy what they can't see
San Francisco, CA (PRWEB) November 27, 2007
Imagine that you are a member of the U. S. Armed Forces, facing the holidays in a war zone…separated from your family by thousands of miles. You want to give your precious someone waiting at home a gift that truly says how much you care.
But how can you be a savvy consumer from six thousand miles away?
One premium online jeweler is dedicated to helping service men and women solve that problem. Yan Berry, founder and creative director of Premium Pearl, a leading online provider of quality cultured pearl jewelry, makes it a point to help turn her customers--particularly those serving overseas or anyone without ready access to fine jewelry stores--into savvy buyers.
"We understand why purchasers may be reluctant to buy what they can't see," Berry says. "That's especially true when buying pearls, where there isn't an industry standard for grading. Besides, our military personnel have enough on their minds. That's why we're committed to offering both an online education and a terrific guarantee. We want anyone, but especially our service men and women, to know as much about quality pearls as they can."
To accomplish that goal, PremiumPearl.com includes a "pearl guide" page offering customers a comprehensive short course on pearl quality and grading, the different kinds of pearls available, how to choose pearl jewelry, pearl care, and knowledge of pearls. For military personnel, Berry says her company is going one step further for the Christmas. PremiumPearl.com is offering members of the Armed Forces free shipping to APO or PPO addresses as a special thank you for their service.
"Pearls are a wonderful gift," Berry says, noting that most online jewelry shoppers are men, "but unfortunately, some other online sellers over-grade their pearls, a misleading practice that can be confusing." She notes that pearls are judged by five separate criteria: luster, the cleanness of the surface, shape, color, and size. "Buyers need to be sure to check those factors carefully. If a store doesn't give any details on any one of them, they should be suspicious."
She says the Premium Pearl staff is happy to answer questions for its customers, either on the telephone or online. Buyers receive a Certificate of Authenticity assuring them that their pearls are 100% genuine and a no-risk 30-day money back guarantee. Berry says it's especially gratifying to be able to offer such high quality merchandise to men and women who simply can't shop in any other way.
Jewelry sales have enjoyed explosive growth in the last few years, and online sales are growing at an even faster rate and now account for about 6% of all sales. Military personnel who take advantage of the education and guarantee offered by PremiumPearl.com can rest assured that their purchases will be delivered exactly on time for the holidays.
PremiumPearl.com is the leading San Francisco-based online provider of quality cultured pearl jewelry, offering its customers pearls of extraordinary quality at prices substantially below what most local jewelers ask. It is a member of the Jewelers Vigilance Committee (JVC) and the Safe Shopping Network. For more information, please visit http://www.premiumpearl.com .
###