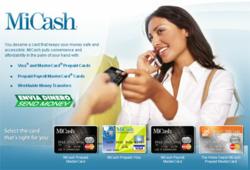 We utilize world class technology to provide fair-priced, value-added financial services, like our international money transfer service
Washington, DC (PRWEB) December 04, 2008
One financial services company has introduced universal prepaid debit cards that give new meaning to their "universal" designation. MiCash Inc., an innovative prepaid card marketer and money service business, announced the launch of a prepaid debit card that offers cardholders the ability to make card-to-card or card-to-cash worldwide money transfers.
MiCash is a leading provider of general purpose, prepaid debit card services, such as payroll cards and general purpose reloadable prepaid cards, with unique remittance capability. In addition, MiCash is an experienced leader in offering MiCash-branded cards as well as partnering with national retailers to offer co-branded prepaid card programs that boost retail revenue and encourage customer loyalty.
"We utilize world class technology to provide fair-priced, value-added financial services, like our international money transfer service," says Daniel Levinas, President and CEO of MiCash Inc. "This unique money remittance service provides immigrants with an affordable, safe and convenient way to send money to family in another country."
While other loadable prepaid debit cards allow bearers to transfer only from card to card, the MiCash prepaid card allows for card-to-cash transfers as well. MiCash cardholders simply set up friends and family as recipients, and call customer service or log onto an online account to make a transfer. For a flat fee, users can transfer from their card to a recipient for pick up at any one of more than 12,000 Bancomer Transfer Services' locations in Mexico, South and Central America, India, the Philippines, China and other locations.
"MiCash strives to make a positive difference in the lives of people who either do not have access to, or choose not to use, mainstream financial services," says Levinas. "With the current economic situation in the United States, reloadable prepaid cards offer tremendous value to credit constrained consumers. MiCash prepaid cards offer cardholders convenience, value and a way to budget for expenses."
In addition to international money transfers, MiCash prepaid cards offer unbanked or underserved consumers access to many of the same amenities that bank account holders receive with their accounts: FDIC-insured funds, cash withdrawals at millions of ATMs worldwide, the ability to pay bills more easily, mobile banking, free direct deposit and other conveniences.
For the individual consumer with little or no credit and no bank account, the MiCash prepaid card opens up access to electronic purchases and bill paying, safer spending and money management, convenient overseas money remittance and other services that cannot be fully or conveniently accessed by someone using only cash. The enhanced buying power reloadable prepaid debit cards provide to these consumers can be instrumental in gaining greater access to goods and services, as well as building credit history.
For more information about MiCash prepaid cards, visit MiCashCard.com.
About MiCash Inc.:
MiCash Inc. is a leading provider of financial services to underserved consumers and a pioneer in offering a remittance-enabled general purpose, re-loadable, prepaid debit card as well as remittance-enabled payroll debit cards. The unique remittance feature enables cardholders to transfer money from their card to a recipient in cash. MiCash is an experienced leader in partnering with national retailers to offer co-branded prepaid card programs, and is a federally-registered Money Service Business (MSB) that complies with state and federal laws and regulations, including the Bank Secrecy Act and USA PATRIOT Act.
###