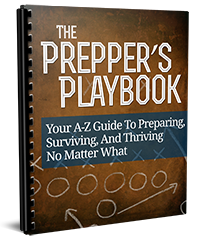 Blind spots in an emergency plan can derail a recovery attempt before it even begins.
Austin, TX (PRWEB) March 17, 2013
How to be a prepper can be an important question for today's families, said the latest Survival Life online article, and the answer lies in the Prepper's Playbook, Survival Life's newest Special Report. Developed by Managing Editor 'Above Average' Joe, the Prepper's Playbook is a foolproof guide for mastering the plans and practicing the procedures for ultimate crisis response.
More often than not, a disaster can cause sheer panic, especially for those who never took the time to prepare, said the article. Battling that panic is objective number one, and Survival Life believes the best way to do it is to be informed from the right sources. That's why Joe wrote the Prepper's Playbook and designed it in the form of master lists including supplies, plans, and more.
Blind spots in an emergency plan can derail a recovery attempt before it even begins, according to the article. The Prepper's Playbook will help address every common mistake and fill every likely hole in anyone's disaster plans. Self-reliance isn't impossible, said the article, and it is aided with the help of a comprehensive guide like the Prepper's Playbook.
Joe has done the research and gathered all the vital information needed to survive a disaster into one 49-page report. That puts all the most important facts and checklists in one document, easily read in a less than a day. The Prepper's Playbook features the details and step-by-step instructions for total preparedness planning.
The advice in the Prepper's Playbook goes well beyond anything found elsewhere, as Joe provides his unique experience and practical viewpoint on emergency readiness. There is more information in this one report than in a lifetime of research, analysis, and training, said the article.
SurvivalLife.com is a non-politically biased source that is geared toward the survival side of prepping. Subscriptions to the Newsletter bring all of the latest information from SurvivalLife.com straight to readers' inboxes.
Whether readers need wilderness survival tips or strategies to plan for an urban disaster, SurvivalLife.com covers it all. Well on its way to becoming a preeminent member of the survival blog-o-sphere, SurvivalLife.com is contributing to the conversation and hopes readers do as well.
Survival Life wants to make sure everyone who wants to be ready for the worst has access to the information that will help them do it. The article said learning how to be a prepper isn't a simple task, but each day provides a new opportunity to add skills, knowledge, and ability.