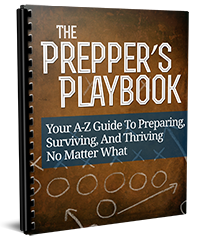 Readers can learn everything it takes to become a more complete prepper in an afternoon.
Austin, TX (PRWEB) March 15, 2013
Prepper list guidelines are now available from SurvivalLife.com's latest Special Report, said a recent online article from the survival blog and online community. It is called the Prepper's Playbook: Your A-Z Guide to Preparing, Surviving, and Thriving No Matter What. It may not be the first checklist designed to help disaster preparation, but Survival Life's Managing Editor believes it is one of the most comprehensive guides ever compiled.
'Above Average' Joe, Survival Life Editorial Director and the creator of the Prepper's Playbook, made sure he provided the ultimate resource for planning and establishing a course of emergency action. The article said Joe's area of expertise focuses on the practical and commonsense aspects of survival. The basis of the Prepper's Playbook is reflective of Joe's goals as he prepares himself and his family for any sort of emergency.
The Special Report boils down every important part of a survival plan and puts it in an easy-to-follow document that totals less than 50 pages. Readers can learn everything it takes to become a more complete prepper in an afternoon.
Self-reliance is increasingly vital to the well-being of Americans, as the nation becomes more dependent on government authority and aid, said the article. Major storms like Katrina and Sandy proved the importance of survival preparations; some of those who didn't prepare unfortunately paid with their lives. No one wants to be caught helpless when no one else can truly help, the article said.
Avoiding the pitfalls of a weak or incomplete disaster plan is what the Prepper's Playbook is all about. Security, safety, nourishment, and health all need to be worked into a survival plan, and the article said it's easy to forget small parts of the bigger picture.
When push comes to shove, the only way to guarantee survival in a major crisis is to establish a prepper strategy with the help of the Prepper's Playbook. The information in the Special Report shares the raw facts and vital intel, and the line-by-line checklists make total preparation a reality, according to the article.
SurvivalLife.com is a non-politically biased source that is geared toward the survival side of prepping. Subscriptions to the Newsletter bring all of the latest information from SurvivalLife.com straight to readers' inboxes.
Whether readers need wilderness survival tips or strategies to plan for an urban disaster, SurvivalLife.com covers it all. Well on its way to becoming a preeminent member of the survival blog-o-sphere, SurvivalLife.com is contributing to the conversation and hopes readers do as well.
Readiness has become a cultural phenomenon, something that amazes, bewilders, and engulfs, but the smart people know that it merely values common sense and practicality. Make sure the prepper list is complete before a disaster has the chance to strike, because the article said by then it will be too late.