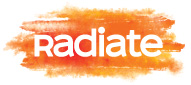 Effective presentation design can increase message retention and dramatically improve closures and conversions.
Excelsior, MN (PRWEB) March 26, 2013
Today, Radiate Presentation Services announces the opening of its firm in the Minneapolis-St. Paul Metro area. With more than 25 years of experience, Principal Michael Campbell brings a high level of skill and dedication to helping individuals and organizations create presentations with compelling visuals and concise messages that inspire audiences to take action. The launch includes an informative website at http://www.radiatepresents.com and two complimentary presentation-planning tools available for download.
"Most presentations are not getting the job done—they're not connecting with audiences," says Michael Campbell, principal. "Effective slide design can increase message retention and dramatically improve closures and conversions. From the outset, Radiate asks clients a lot of questions about what they're presenting, why they're presenting and to whom they are presenting. For Radiate, these details are critical to building connections between the presenter, the audience and key messages."
The firm focuses on three core areas: presentation design, infographics and data visualization. Through a four-step development process, Radiate strategically works with clients to outline the story, define key takeaways and action steps, storyboard the presentation, and develop compelling visuals and infographics. The final product gives the presenter confidence that the right story is being told to the right audience.
"Most presenters want to show data and statistics. While there's a story in all those numbers, charts, and research, in a presentation it can be dull. When a customer needs the statistics to come alive, Radiate helps with data visualization to shape those numbers, facts and figures into a persuasive infographic that shows relationship, scale and proportion." Likewise, many organizations struggle to communicate strategy, organizational structure and methodologies. These complex ideas can be difficult to visualize. "When you need employees, shareholders and customers to 'get' the big picture, Radiate takes an abstract topic and makes it clear and understandable through a memorable visual explanation."
About Radiate Presentation Services
Michael Campbell, principal and owner, is a Minneapolis-based presentation designer, communication strategist, and writer. He partners with clients in a wide range of industries to develop effective presentations and infographics. He has a passion for making his clients' voices heard, their messages understood, and their visions realized. His approach is simple: eliminate clutter to achieve clarity while creating visually remarkable stories. He has worked both as a consultant and on the client-side. He has developed sales, training, keynote, IPO and strategy presentations. Learn more and download two presentation-planning tools today to get started.