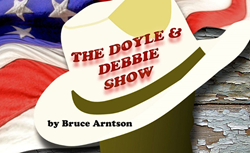 "I want to personally thank you for perpetrating your mission to build The Wall and MAGA," said Mayfield. "You are clearly a handful o' man who is a-hangin' with the Big Dogs."
Washington, DC (PRWEB) February 10, 2019
Embattled Country-Western duo "Doyle and Debbie" have invited President Trump and his family to attend their performance of THE DOYLE & DEBBIE SHOW with The Landless Theatre Company at District of Columbia Arts Center in Washington, DC.
THE DOYLE & DEBBIE SHOW takes a brief stop on their way to Nashville to play on select Fridays and Saturdays from February 15-March 30, 2019, at The District of Columbia Arts Center at 2438 18th Street NW Washington DC. Tickets and info: landlesstheatre.com.
Though the President has not yet responded to the invitation, singer-songwriter Doyle Mayfield notes "he has a pretty busy schedule of MAGA that frequently takes him to the far reaches of Mar-A-Lago, but Doyle and Debbie hope to use what gifts the Good Lord gave us to comfort our President with some good down-home Heartland music as he alone stands Erect in the Great Blue Socialist Swamp of Washington, DC."
The duo is best known for hit songs like "Fat Women In Trailers," "When You're Screwin' Other Women Think of Me," and "Eat Your Peas and Shut Your Pie-Hole Woman, That Was My Truck and You're Not Allowed To Drive." Mayfield (age 49) recently enlisted his third "Debbie" for the song-and-dance act, having previously worked with his second and third wives.
"I found this new Debbie working at a hole-in-the-wall joint in nowheresville Kentucky," said Mayfield, "And we're quite certain that once you hear this new gal sing, it will wipe clean away the memories of all them other Debbies."
Neither the current "Debbie" nor the President of the United States could be reached for comment.
In Mr. Mayfield's letter to the President, he extends the invitation to the President's closest friends and family, most particularly Ivanka Trump, Kellyanne Conway, and Sarah Sanders, citing that he is currently "in between marriages and available."
THE DOYLE & DEBBIE SHOW by Bruce Arntson is a sublime parody, simultaneously lampooning and idolizing country music's tradition of iconic duos and their subsequent battle of the sexes. The production is directed by John Sadowsky (Gutenberg! The Musical!), and features Landless familiars Andrew Lloyd Baughman (Sweeney Todd) and Karissa Swanigan-Upchurch (High Fidelity). The show runs in rep with the DC Premiere of Matt Cox's PUFFS or SEVEN INCREASINGLY EVENTFUL YEARS AT A CERTAIN SCHOOL OF MAGIC AND MAGIC. Tickets for both are available at landlesstheatre.com.
Press Inquiries should be sent to abaughman@landlesstheatrecompany.org.