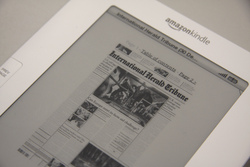 Our strategy has always been to provide our customers with the best medium for reading their favorite publications. This not only gives our readers what they want, it gives our publishers what they need – an 'iTunes for content' storefront that guarantee
Vancouver (PRWEB) January 6, 2010
NewspaperDirect Inc., the world leader in multi-channel newspaper and magazine content distribution is bringing the world's largest online kiosk of full-content newspapers and magazines to the Amazon Kindle reading devices.
PressDisplay.com subscribers can now download their choice of 1,400+ titles to the Kindle and read them in their entirety, including: The Washington Post, Los Angeles Times, San Francisco Chronicle, Globe and Mail, National Post, The Guardian, Daily Mail, International Herald Tribune, Irish Independent, Le Figaro, The Australian, New Zealand Herald, Gazeta Wyborcza, Marca, Bangkok Post, and Kommersant, to name just a few. Overnight, readers' choice of newspapers and magazines for the Kindle has grown by more than an order of magnitude.
After installing NewspaperDirect's PressReader application on their computer, users can select the publications to which they wish to subscribe. PressReader downloads these publications and then transfers them to the Kindle via USB cable. Using PressReader, customers have access to complete editions of local, national and international newspapers from 93 countries in 44 languages -- often before they are available on newsstands -- and read them from cover to cover, including:

All original content (including images and advertisements) presented in a familiar newspaper layout.
Intuitive navigation controls, along with thumbnails, and cross-linking within multi-page articles.
While some publishers align themselves with specific e-reading manufacturers, denying their customers the right to choose their own reading device, NewspaperDirect takes a different approach, offering their wealth of titles on whatever device their subscribers want to use. Kindle now joins a growing list of devices supported by PressReader including PCs, Macs, smartphones, iPhones, iPod Touch and BlackBerry devices, Sony and IREX e-readers, and soon, Interead's COOL-ER.
"Our strategy has always been to provide our customers with the best medium for reading their favorite publications," said Alex Kroogman, CEO of NewspaperDirect. "Whether that be in print, online, on mobile devices or e-readers, we are committed to offering a reading experience second to none on whatever 'screen' our customers choose. This not only gives our readers what they want, it gives our publishers what they need - an 'iTunes for content' storefront that guarantees them the best opportunities to grow their paid circulation revenues now and into the future."
In addition, publishers of the hundreds of privately-labelled SmartEditions powered by PressDisplay technology can immediately offer their subscribers their content on the newest devices on the market, without lifting a finger. The moment a device is supported by PressDisplay.com, it's also made available to NewspaperDirect publishing partners for their own e-editions.
About PressDisplay.com
PressDisplay.com is popular with consumers who want access to multiple news sources, and corporate customers who need to monitor printed media for business-critical news. With more than 1,400 full-content digital replicas of newspapers and magazines from 93 countries in 44 languages, PressDisplay.com has also become the standard in more than 2,500 libraries around the world.
About NewspaperDirect Inc.
NewspaperDirect delivers the world's newspapers and magazines to millions of readers the way they want to receive them -- in print, online, or on their mobile device or e-reader -- and wherever they live, travel, work or play. With the most innovative digital publishing technology in the industry, and the only zero operational-cost business model, NewspaperDirect is recognized as the world leader in multi-channel content distribution and monetization, and is the chosen partner of more than 1,400 publishers from 93 countries.
Optimized for PCs, Macs, Smartphones, iPhone, iPod Touch, BlackBerry, and various popular e-readers, NewspaperDirect's flagship products (PressDisplay.com and PressReader) transcend the traditional RSS or text-based formats of other digital editions, delivering full-content publications that are compliant with international audit bureau requirements. PressDisplay.com also enhances the reading experience with powerful features such as cross-title search, monitoring, article ranking, bookmarks, instant translation, on-demand audio and social features that allow readers to comment on content, share articles, and interact with other readers.
SmartEdition, powered by PressDisplay technology, offers publishers a fully customizable digital edition platform with powerful and proprietary back office reporting and analysis tools (Reading Map, Ad Value Map) that help them optimally manage their content and advertisers. NewspaperDirect provides full hosting, payment acceptance, customer service management, and technical support.
Media resources
NewspaperDirect website: newspaperdirect.com
PressDisplay website: pressdisplay.com
PressDisplay blog: blog.pressdisplay.com/
Facebook: facebook.com/PressDisplay
Twitter: @pressdisplay
Media contact:
Tim Cox, ZingPR, tim(at)zingpr(dot)com, +1-650-369-7784
###