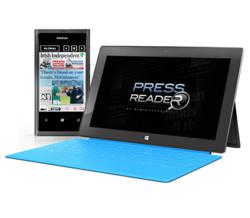 Newspaper and magazine fans are really going to love the way they can get instantly immersed in their favorite publications, and our thousands of publishing associates get the added benefit of immediate access to Windows 8 users.
MONTE CARLO, MONACO (PRWEB) November 15, 2012
[MONACO MEDIA FORUM] As Microsoft Corp. begins shipment of Windows 8 and dozens of hardware vendors announce Windows 8 devices in multiple form factors, NewspaperDirect (ND) is announcing the availability of a new version of its award-winning PressReader digital newspaper and magazine application, which is now live in the Windows Store. As one of the first digital newspaper and magazine apps available for Windows 8, PressReader brings more than 3,000 full-content digital replica editions to the huge variety of PCs, Ultrabooks, hybrids, all-in-one devices, and a wide range of tablets running Windows 8.
PressReader takes advantage of Windows 8 features
PressReader for Windows 8 brings the advanced news reading features pioneered by ND to Windows 8, including ND's SmartFlow horizontal streaming navigation which helps showcase the power of Windows 8 with an engaging, "swipe-able" flow of stories that maximizes readability and invites exploration of related content.
"It's excellent news that NewspaperDirect has made its popular PressReader news app available for Windows 8 and taken advantage of the fast, fluid and fun user experience that Windows 8 delivers," said John Richards, senior director Windows App Marketing for Microsoft Corp. "The vast array of premium titles available in PressReader will appeal to both our consumer and enterprise users, who will be able to use PressReader on a Windows 8 device that's just right for them."
"As part of our ongoing commitment to our publishers to reach their readers on every screen, we're delighted to launch our PressReader optimized for Windows 8. Newspaper and magazine fans are really going to love the way they can get instantly immersed in their favorite publications, and our thousands of publishing associates get the added benefit of immediate access to Windows 8 users," said Alex Kroogman, CEO of NewspaperDirect.
One of the world's most popular news apps sets a new benchmark for digital news on Windows 8
PressReader for Windows 8 brings some of the best of the world's press to the Windows 8 users with just one subscription. Features include:
■ SmartFlow advanced reading technology, which enhances the traditional replica newspaper presentation by displaying articles as a continuous, horizontal stream of stories that flow across Windows 8, transforming the reading experience. Visual cues indicate the relative importance of individual stories, and SmartFlow surfaces related content that might otherwise be missed
■ Instant switching between Replica/Page View and SmartFlow viewing
■ SmartZoom automatically positions the zoomed-in view to the beginning of an article
■ Press and hold (i.e. Long Press) activation of contextually driven actions:
— Utilizes the Share charm to share stories by email, or on Facebook or Twitter
— Save articles to Evernote
— Listen to articles using on-demand audio
— Share opinions by supporting or opposing a story
■ Adjustable font size for optimum readability
■ Utilizes the Search charm for cross-title search
■ Desktop thumbnails of the most recently downloaded publications for instant access to the latest issues
■ Auto-delivery of favorite publications
■ Authorization of PressReader with a PressDisplay.com subscription
A simple download brings the world's press to Windows 8
PressReader for Windows 8 is available as a free download in the Windows Store, giving Windows 8 users access to full-content replicas of more than 3,000 prestigious newspapers and magazines such as The Washington Post, Chicago Tribune, The Philadelphia Inquirer, National Post, The Globe and Mail, The Guardian, Daily Mail, International Herald Tribune, The Irish Times, Irish Independent, ABC, Le Monde, Business Standard, Harpers Bazar, India Today, Money Today, The Australian, Inside Golf and The New Zealand Herald — to name just a few of the top titles currently available.
Pricing
Most individual newspapers and magazines available through PressReader can be purchased for $0.99 per issue, or downloaded in conjunction with a paid subscription on PressDisplay.com, which offers virtually unlimited access to the world's press starting as low as $29.95/month (USD). For full details on subscription pricing, visit our subscription page.
About PressReader
PressReader and its companion online service, PressDisplay.com, deliver the most authentic newspaper and magazine reading experience on PCs, Macs, smartphones, eReaders and tablets running BlackBerry, iOS, Android and Windows operating systems. Today, millions of tablets come preloaded with PressReader from a growing list of leading manufacturers including ASUS, HTC, Kobo, Microsoft, Research in Motion and Samsung. With PressReader, you can hold a digital edition of your favorite publication in your hands and read it from cover to cover, just the way the title was printed — with no compromises in quality, fidelity or content. Follow us on Facebook.com/pressreader, Google+, Twitter @pressdisplay, and YouTube.com/user/pressdisplay.
About NewspaperDirect Inc.
NewspaperDirect delivers the world's newspapers and magazines to millions of readers the way they want to receive them — in print, online, or on their mobile device, tablet or eReader — wherever they live, travel, work or play. With the most innovative digital publishing technology in the industry and the only zero operational-cost business model, NewspaperDirect is recognized as the world leader in multichannel content distribution and monetization, and is the chosen partner of more than 3,000 publishers from 100 countries.
SmartEdition, powered by PressDisplay technology, offers publishers a fully customizable digital edition platform with powerful and proprietary back office reporting and analysis tools (Reading Map, Ad Value Map) that help them optimally manage their content and advertisers. NewspaperDirect provides full hosting, payment acceptance, customer service management, and technical support.
PressDisplay.com, PressReader and SmartEdition are trademarks or registered trademarks of NewspaperDirect Inc. All other trademarks and registered trademarks belong to their respective owners.