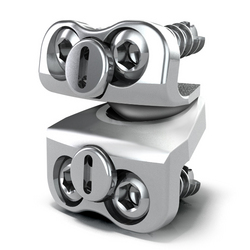 The decision to go with artificial disc replacement was easy
Chicago, IL (PRWEB) July 13, 2009
For more than a decade, Virginia Sabine endured. But the vibrant 40-year-old wanted more than unbearable neck pain and addictive medication. She wanted her life back.
In 1996, Virginia had two discs fused. Now a third disc was acting up, and she went hunting for answers. She found them in Geoff Dixon, M.D., an experienced neurosurgeon with the Chicago Institute of Neurosurgery and Neuroresearch (CINN). He recommended an artificial disc for the cervical (neck) region that was unanimously approved by the Food and Drug Administration in July 2007. Neurosurgeons at CINN are among the most well-trained surgeons in the country in performing cervical artificial disc surgery and frequently are asked to teach other spine surgeons in the technique.
"The decision to go with artificial disc replacement was easy," Virginia says. "Not only was the procedure covered by insurance, but the benefits far outweighed spinal fusion."
She says that the difference between the artificial disc operation and the fusion was night and day. "In 1996, I was in the hospital for five days and in a neck brace for two months. This time, I was out of the hospital and walking immediately, and the pain was completely gone within four days."
U.S. health insurers, too, see the same benefits in artificial cervical disc surgery that Virginia did. As a result, today they are extending coverage to a broad base of customers.
Now 200,000 Americans with spinal disorders have potential access through insurers such as Aetna, various BlueCross BlueShield plans and Broadspire to artificial disc surgery instead of the conventional cervical spinal fusion surgery. Other insurance carriers may approve the innovative procedure on a case-by-case basis. (A complete list of insurance companies with positive coverage decisions for the cervical artificial disc as of April 2009 can be found on the CINN website.)
Currently, the most common surgical treatment for patients with degenerative discs in the cervical spine is spinal fusion. In this procedure, a surgeon removes the damaged disc, then implants a bone graft and metal plate to fuse the vertebrae together. Challenges of spinal fusion include longer recovery time, pain management and the possibility of adjacent-level surgery in the future.
During artificial disc replacement surgery, the damaged disc is removed and replaced with an artificial disc, a stainless-steel device with a ball-in-trough design intended to allow for replication of normal motion. The disc stays in place with bone screws. The hospital stay for this procedure is approximately one to two days. Patients can begin rehabilitation and return to daily activities soon after surgery. In fact, one study demonstrated that patients receiving the cervical disc returned to work in 45 days, 16 days earlier than the fusion patients.
"Studies show that artificial cervical disc patients have a higher rate of neurological success as measured by muscle tone, strength, sensation, as well as responsiveness of reflexes as compared to those who've had spinal fusion," says Dr. Dixon. "Studies also demonstrate that at a two-year follow-up exam, the overall success rate for the artificial disc group is 79.3% compared to the fusion group at 67.8%. These reasons are compelling enough for potential candidates to consider the option of an artificial disc."
About CINN:
The Chicago Institute of Neurosurgery and Neuroresearch is one of the nation's leading organizations for the diagnosis, treatment and rehabilitation of people with brain and spine disorders. Founded in 1987, CINN is one of the Midwest's largest teams of neurosurgeons, physiatrists and neurologists known for their pioneering treatments in minimally invasive techniques. Through a network of seven hospitals throughout Chicagoland, CINN is a market leader in treating brain tumors and spine disorders.
For details on the cervical artificial disc, call: 1-800-446-1234 or visit http://www.cinn.org.
In addition to national carriers, many statewide carriers now cover artificial cervical (neck) disc surgery. Those insurers operate in: Alaska, Arizona, California, Colorado, Connecticut, Delaware, Florida, Hawaii, Indiana, Idaho, Illinois, Iowa, Louisiana, Michigan, Missouri, Montana, New Jersey, Minnesota, Nebraska, New York, New Mexico, Nevada, North Dakota, Ohio, Oklahoma, Oregon, Pennsylvania, South Carolina, South Dakota, Texas, Utah, Washington, Wyoming, Virginia and West Virginia.
###