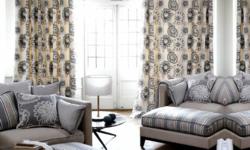 Design & Price Your Curtains In A Couple of Clicks
(PRWEB UK) 26 March 2013
Ever striving to stay on top of latest textile trends and give their customers the greatest choice, Curtains Made Simple has expanded its product offering to include 12 new fabric collections from Prestigious Textiles – Atmosphere, Butterfly Gardens, Clover, Fiorella, Forest Friends, Helix, Jamboree, Linden, Mezzo, San Marco, Springfield and Stardom.
Amongst these fabric ranges include a range of chic, elegant designs that can be used to add a touch of contemporary sophistication to home interiors. This desire for lustrous textures, sophisticated colourways and modern, stylish designs a popular trend in the textile industry, which Curtains Made Simple predicts will continue to grow in 2013.
The Atmosphere fabric collection offers a diverse selection of modern, stylish designs in an exquisite array of white, grey, and silvery hues; ideal for creating bespoke products such as curtains and roman blinds that are out of this world. The collection features various patterns such as circles, diamonds and modern leaf trails in iridescent, exciting textures, that can add a stylish modern twist to any drab interior.
Prestigious Textiles' new Clover fabric collection is also characterised by its subdued and sophisticated colour palette, being available in subtle, neutral shades such as Linen, Dove and Smoke. This beautiful collection now offered at Curtains Made Simple comprises of seven unique designs that combine the modern and traditional, through intricate embroidery, ornate patterns, textured swirls, stripes, and geometric shapes.
For soft furnishings that create a dazzling impact, the Stardom fabric collection is perfect for creating stunning curtains, blinds and drapes, in either subtle, sophisticated tones such as Pearl and Pewter, or powerful hues such as Magenta and Saffron. Featuring unusual geometric patterns, striking modern florals and lustrous, iridescent textures, these dramatic fabrics create a distinctive ambience in the home and can be the luxurious "silver lining" for any dull interior.
The Helix fabric collection from Prestigious Textiles is equally innovative, comprising of several simple yet sophisticated designs that included, stripes, diamonds, stepped hexagons and a semi-plain. This voguish, modern collection proves that less is more when it comes to creating stylish, luxurious interiors, and is available in a range of subtle tones such as Champagne, Lavender and Duck Egg.
San Marco fabric collection is the final new Prestigious Textiles collection introduced at Curtains Made Simple that follows in this trend of modern, stylish sophistication. Luxurious textures such as strié weaves and silky chenilles combine with various patterns including a traditional damask and contemporary zigzags, and are available in timeless range of mid-tone shades for beautiful coordination throughout the home.
Alongside Clarke & Clarke, Prestigious Textiles is one of the key players of the textile industry, boasting a huge array of contemporary, traditional and children's fabrics for interior furnishings. Founded in 1988, the business began as a small textile wholesaler and distributor for the UK, but over the last 25 years the company has seen huge growth and now supplies high quality fabrics to retailers all over the world. Curtains Made Simple has had a long and successful relationship with Prestigious Textiles, which it hopes will continue into the future through the continual addition of its latest collections.
About Curtains Made Simple:
Curtains Made Simple is a made to order soft furnishings company with easy to use online ordering for curtains, roman blinds, cut length fabric, cushions, pelmets, bedspreads / throws, duvets covers, bean bags, tablecloths, curtain valances and fabric samples.
Curtains Made Simple has over 7,000 fabrics to choose from including fabric from Cath Kidston, IKEA, Cabbages & Roses, Susie Watson, Kate Forman, Linens from Ada & Ina, Vanessa Arbuthnott, Clarke & Clarke and Prestigious Textiles.
Our aim is to provide the quality and personalised service of the high street with the prices of the internet.
To find out more please visit us at http://www.curtainsmadesimple.co.uk, email: info(at)curtainsmadesimple(dot)co(dot)uk or call us on: +44 (0) 845 8620743