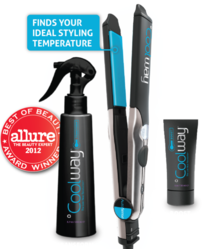 clinical tests prove that the styler increases hair strength by 300%, reduces hair breakage by 75%
New York, New York (PRWEB) March 12, 2013
Beauty consumers beware. Flat irons and curling irons can damage hair and cause it to break and fall out if not used carefully. Nothing exemplifies this more than the viral YouTube video of the girl who was demonstrating a new hairstyle when suddenly her hair literally burned off.
BeautyStat.com -- the leading online beauty community for skincare reviews and makeup reviews reports on simple ways consumers can prevent this type of damage.
BeautyStat's cosmetic chemist and founder, Ron Robinson, notes that overuse of heat styling tools especially curling irons can cause a lot of damage to the hair. The heat can permanently break the hair bonds which can cause it to literally burn and break off.
There are many heat styling tools on the market today but one of the best curling irons to prevent this type of damage is the Coolway Flat Iron Hair Styler.
The Coolway Styler automatically adjusts its heat setting to the personal moisture levels in one's hair, never going over 299 degrees -- any degree level over that burns and damages the hair follicles. Coolway's clinical tests prove that the styler increases hair strength by 300%, reduces hair breakage by 75% and frizz by 50%. This styler not only delivers impressive styling results, but improves the health and overall look of hair every time the Coolway Auto Sense Styler is used. Safe and non-toxic, the Coolway Auto Sense Styler works on all hair types including on bleached, relaxed and hair extensions.
Use promo code: beautystat12 - when checking out of http://www.CoolWayHair.com to receive 10% off your purchase.
BeautyStat.com (a NYC tech startup) is an online beauty community - consisting of beauty product reviews - and social marketing agency for the beauty industry. It has been featured in Womens Wear Daily, New York Times, Forbes Magazine, NBC and CBS News. The strength of BeautyStat.com is its captive, engaged and influential 100,000+ community, 190+ blogger network and 40 million social network reach. BeautyStat.com works with beauty brands, retailers and PR agencies to connect them to the BeautyStat community for online PR events, advertising and rich consumer insights.
BeautyStat.com was founded by beauty entrepreneur Ron Robinson. Ron is a veteran cosmetic chemist who has worked for such leading beauty companies as The Estée Lauder Companies, L'Oreal, Avon Products and Revlon Products. Ron is currently a resident beauty expert for Allure magazine.