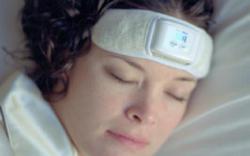 Dentists are typically not trained in the nature of addictions, and the underlying behavior that causes the pain associated with TMJ disorder is an addictive behavior.
(PRWEB) March 26, 2013
At the annual conference of the Holistic Dental Association in Herndon, VA, on April 19-20, Holistic Technologies will demonstrate to dentists a new method of quantitatively diagnosing addictive in-sleep behavior using the SleepGuard EMG measurement headband, and a method of reducing that behavior using wearable nighttime biofeedback.
Most types of TMJ-disorder-related pain (jaw pain, facial pain, temporomandibular joint pain, tooth pain, loose teeth, neck pain, and headaches) are caused by ongoing tissue damage done by addictive nighttime teeth clenching. The nerve signals which the brain becomes addicted to from nighttime clenching are also a key component of migraines being triggered in people with migraine-sensitive brains. Holistic Technologies will demonstrate that the SleepGuard biofeedback headband allows TMJ disorder sufferers to get far more effective pain relief than most people can get through mouth guards or splints. "Mouth guards and splints are fine for preventing tooth enamel wear", says Lee Weinstein, CEO of Holistic Technologies, "but often mouth guards and splints fuel addictive nighttime bruxism rather than reducing it, and this causes TMJ disorder problems and migraines."
It is understandable that most people go to a dentist when they experience TMJ-disorder-related pain", says Lee Weinstein. "Unfortunately, while dentists are trained to repair and protect the teeth, they are typically not trained in the nature of addictions, and the underlying behavior that causes the pain associated with TMJ disorder is an addictive behavior. Addictive nighttime clenching is typically not considered and not measured by dentists. Dentists usually don't even know that it can be easily measured, and that the behavior can be reduced through nighttime biofeedback.
Some of the array of TMJ disorder treatments offered by dentists can result in irreversible damage that makes pain worse. There are so many treatment procedures being marketed that involve irreversible changes that the National Institutes of Health has put up a web page advising consumers that no TMJ treatment that involves irreversible changes has been shown to be effective. Nighttime biofeedback offers a holistic alternative that is non-invasive and very safe.
Migraines are another type of pain often fueled by addictive nighttime teeth grinding and clenching. Teeth grinding always includes some clenching. Many consumers and many dentists don't understand the link between nighttime teeth clenching and migraines. "Usually TMJ disorder sufferers don't realize that their migraines would not be happening if they were not clenching their teeth in their sleep", says Weinstein. In 2007, Dr. Alex DaSilva did brain scans of chronic migraine sufferers at Massachusetts General Hospital (MGH), and found that the brain structure of chronic migraine sufferers differs from that of other people in the region of the somatosensory cortex that receives sensation signals from the head and face (including the roots of the teeth). Holistic Technologies' recently published clinical trial results dovetail with the MGH findings to show that for people who have a nighttime clenching habit, the majority of migraines stop happening when nighttime clenching is reduced by 80% through nighttime biofeedback.
Since many migraine sufferers don't know whether they clench their teeth in their sleep, and since unlike teeth grinding, teeth clenching often does not leave telltale visible signs such as enamel wear, Holistic Technologies offers a three-week free trial of the SleepGuard biofeedback headband, so that migraine sufferers can determine without cost whether they can use nighttime biofeedback to prevent migraines.
"We feel it is basically unfair that almost all other TMJ and migraine treatments don't even have money-back guarantees", says Weinstein. "We have made the SleepGuard biofeedback headband free to try. We feel no TMJ or migraine treatment should have to be paid for unless it works for the person using it."
Interviews with TMJ and migraine clinical trial participants can be arranged upon request for members of the press, and Holistic technologies makes raw clinical trial data available to university researchers.
Holistic Technologies LLC has been providing nighttime biofeedback relief to thousands of bruxism sufferers since 2007. The company website is http://StopGrinding.com. News and new information regarding the SleepGuard biofeedback