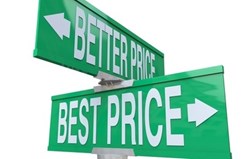 Denver, Colorado (PRWEB) March 08, 2013
According to the company online shopping has made a lot of purchases more affordable and available, but that means clients can't test on the spot the product that looks more appealing.
This is oftentimes the main reason some consumers today would eventually give up buying a product from an online shop if they haven't had the opportunity to test it before. Also the lack of information, product comparisons and product reviews are drawbacks that carry the risk of making an uninspired purchasing decision.
Ironclad Integrity Ltd. has released a price comparison service called Prices Lab for tech products of all kinds and purposes, including a variety of home appliances and personal gadgets for music and home entertainment. The price comparison service available at: http://www.PricesLab.com features a wide variety of brands, such as Braun, Coby, Canon, Apple, HP, Bose, AT&T, LG and so on, giving buyers a significant database of products for price comparison.
Home appliances, small and big, are particularly of interest for buyers looking for a bargain. The price comparison service will display current and best offers from 500 online stores for a product selected by the client, as well as display similar products and their prices, online hot deals, special discounts, shipping costs, price comparisons, pros and cons, tech specs and particular features.
BizRate.com explained in 2003 that "consumers have always comparison shopped because it is the American way to get a competitive price". So many years later, the above still applies as price comparison services have become a tool buyers must use to fully rip the benefits of a competitive market.
These sites collect their data directly from merchants and index the best offers on products of all kinds, giving the buyer an accurate take of the offer. The Internet has eased access to information that only two decades ago was difficult to find giving shoppers a chance to stay within budget with every purchase, whether it's tech products, medical services or holidays.
PricesLab.com is a price comparison service in USA that aims to help buyers find the best price available in the market, including special discounts of all kinds. However, the main mission of this price comparison website is to help buyers interested in Apple iPod Touch 16GB Mp3 Player to find the cheapest price for this device.
General info and prices available on the PricesLab website pertain to small and big appliances, computing products, digital cameras, electronics such as laptops and notebooks, home theater accessories, video game software, entertainment gadgets, musical instruments, music devices, GPS, Mp3 Players, other portable electronics and other tech products.