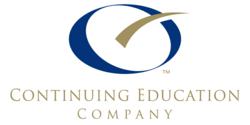 Dr Post presented a very informative and succinct discussion on what is happening in the orthopedic field today as it relates to the primary care physician and their education. Barbara Lyons, VP CEC
Palm Coast, Florida (PRWEB) April 01, 2013
A live Continuing Medical Education Conference (CME) hosted by Continuing Education Company Inc. presented "Important Orthopedic Updates for the Primary Care Physician",a lecture specifically formulated for primary care physician education.
Considered a leader in live continuing medical education CME conferences, Continuing Education Company, Inc.(CEC) is an independent, non-profit, 501 (c)(3) continuing medical education organization who has been developing and presenting continuing medical education programs for over 21 years. Their mission is to develop and provide educational opportunities to improve the skills and knowledge of medical and healthcare professionals by offering American Academy of Family Physicians (AAFP) accredited CME lectures, symposia, and conferences. Their educational activities are developed with the guidance of Continuing Education Company's Curriculum Advisory Committee. The committee is comprised of physicians, pharmacists, educators who have extensive clinical and CME experience.
Continuing Education Company hosted the 7th Annual Primary Care CME Spring Conference from March 25, 2013 to March 29, 2013 at the Hammock Beach Resort in Palm Coast, Florida. Among the many topics especially formulated for family physician, primary care and internal medicine physicians, physician assistants and nurse practitioners, was "Office Orthopedic Update" presented by John Post III, MD.
Dr. John H Post III practices Orthopedic Surgery in Charlottesville, Va with a special expertise in Knee and Shoulder Surgery and Knee Replacement Arthoplasty. He is a fellow in the Arthroscopy Association of North America and the American Academy of Orthopedic Surgeons.
Dr. Post presented several informative updates on orthopedics for primary care physicians including the discussion of whether the latest trend of kinesio taping is a valid therapy or not, treatment of compression fractures including vertebroplasty and kyphoplasty, plantar fascilitis causes and treatments as well as many other orthopedic topics. The attendees of the conference appreciated the hands on demonstration on shoulder injections as well as other treatment suggestions. "Dr. Post presented a very informative and succinct discussion on what is happening in the orthopedic field today as it relates to the primary care physician." said Barbara Lyons, VP of Continuing Education Company Inc.
Dr. Post will also be presenting at Continuing Education Company's 21st Annual Primary Care Conference July 1-5, 2013 along with many other lecturers who are considered experts in their field. Registration for this event is available at Continuing Education Company's website, http://www.cmemeeting.org