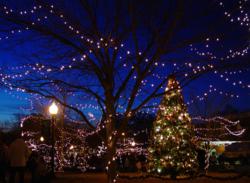 Within a day or two after Thanksgiving, a trip to nearly any big-box retailer is usually disappointing for shoppers looking to buy Christmas lights
Orlando, FL (PRWEB) December 04, 2012
More and more people are lighting the way for Santa's sleigh this Christmas with energy-efficient lights.
Demand for light-emitting diode (LED) holiday decorations has increased dramatically.
With sales soaring and shelves clearing, customers are turning to online retailers for help.
Scott Shelton, operations manager at Primo Lights, said the company receives calls daily from customers who have driven store to store in search of lights for their holiday displays but came home empty handed. Sometimes, holiday LED light strings are sold out or there are simply not enough colors and styles to choose from.
"Within a day or two after Thanksgiving, a trip to nearly any big-box retailer is usually disappointing for shoppers looking to buy Christmas lights," Shelton said. To make the holiday season sparkle, shoppers head online.
Websites such as Primo Lights offer a wide variety of LED Christmas lights in many sizes, styles and colors. LED lights use up to 80% less energy than traditional incandescent bulbs, last longer and are cool to the touch making them easier to handle and reducing the risk of fires. They also have no moving parts or filaments and are enclosed in rugged plastic rather than fragile glass, increasing their durability and lifespan.
LED holiday lights are ideal for indoor and outdoor use and work well in both residential and commercial applications. Some of the nation's largest Christmas trees such as those at the White House and Rockefeller Center are now using LEDs, which continue to surprise and delight visitors while reducing energy costs.
Likewise, both national and international retailers have adopted the trend, using thousands of LED lights on their buildings, window displays, holiday decorations and fixtures surrounding the stores.
"These lights are a great option for anyone who wants to slash their electricity bill without sacrificing style," Shelton explained. Customers can do any decorating with LED lights they had previously done using traditional mini lights or larger C7 & C9 Christmas lights.
Shoppers who want to deck the halls with the traditional lights they grew up with are in luck too, Shelton said. While many stores are phasing out incandescent holiday lights, Primo Lights continues to carry a full selection of twinkle bulbs and cords for customers wanting a more traditional display.
About Primo Lights
Primo Lights is a leading online provider of premium quality Christmas lights and a proud ENERGY STAR partner. The company offers a complete range of residential and commercial holiday lighting and decorating products perfect for any occasion. Primo Lights serves larger customers with a wide range of wholesale products. For more information, contact Primo Lights at (888) 528-0309, info(at)primolights(dot)com, or visit primolights.com.