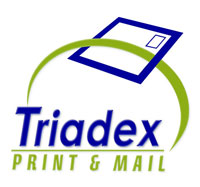 Tampa, FL (PRWEB) November 16, 2011
Triadex Services, one of the fastest growing, on-demand print and mail distribution services in the US, today announces the launch of its redesigned website, http://www.TriadexServices.com. The new design allows for easier navigation, the ability to request both print and mail and check printing proposals, a glossary, an updated FAQ, and visible samples of the services the company provides.
Most businesses will research the print and mail industry before contacting vendors for pricing. The purpose of the website redesign is to make it easier for visitors to complete their initial research of the print and mail industry and then share this information with other decision makers.
Thousands of organizations are already outsourcing their printing and mailing needs. They include companies of all types and sizes, including medical billing firms, property management organizations, and collection agencies.
Clients of Triadex Services have the added confidence of receiving HIPAA and SSAE16 Certified print and mail services. HIPAA refers to The Health Insurance Portability and Accountability Act of 1996. In order to ensure customer privacy, healthcare providers should partner with a print and mail company that is HIPAA compliant. SSAE16 Certified is a security certification that many banks and credit unions require. It supersedes the SAS70 auditing standards.
Triadex Services is able to deliver your mail faster, easier, and less expensively because it is processed through CASS Certification. When your mail is processed through CASS, you obtain bulk mail discounts from the USPS and your mail is delivered faster, which means better cash flow for your business.
Triadex Services allows businesses to save both time and money by outsourcing their invoice printing, statement processing, and check printing and mailing needs. Businesses looking for more information about the print and mail industry should visit the company blog or contact a Triadex Services representative at 877-TRIADEX (874-2339).
About Triadex Services:
Triadex Services is one of the fastest growing print and mail distribution services in the US. The company provides on-demand print and mail services to companies ranging from Fortune 500 to small and medium-sized companies. Triadex Services' unique print and mail service is dedicated to businesses that need to outsource the printing and mailing of client communications in order to save both time and money. You can rely on Triadex Services as your trusted partner in managing all of your invoice printing needs.
###