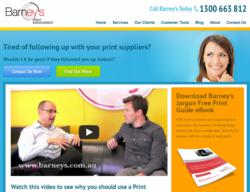 Each client gets personal service and attention
Melbourne, Victoria (PRWEB) February 08, 2013
Specialist printing company Barney's Print Management has just launched a brand new website, including an educational web video area called "Barney's Uni". The new site was created with the focus of providing customers with unparalleled product support and education. "The focal point for our refreshed site is to better support and educate our clients by providing them with free helpful video tutorials," says Garry Barnett, owner of Barney's Print Management, "we're more than just a printer, we're an educator."
Whether big or small, time is usually scarce for businesses trying to organize and execute a marketing campaign. Finding enough hours in the day to complete normal tasks is already hard enough, so adding the chores of sourcing products and materials, following-up deadlines, managing delivery and launching the finished product, is well beyond reasonable expectation for most. But that's where Barney's Print Management steps in, allowing marketing departments across Australia to take a deep breath.
Garry Barnett, the owner of Barney's Print Management, created the company because he recognized the need for companies to have a central contact point for all their printing and marketing requirements. Being a specialist printer with a singular port of call, Barney's doesn't just save businesses time, but money as well.
To better present their one-stop print shop services, Barney's Print Management just launched a rejuvenated website, revolving around useful product support and educational videos.
"Our new site allows us to help our clients more than ever before," says Garry. He also states that the website doesn't just inform clients of their wide range of products and services, but also allows them to "learn more about our business, our guarantee, and our processes."
With so many years of experience behind them, Garry and his team are not only experts in their field, but also eager educators. Garry remarks, "We're more than just a printer because we give clients all the education they need about printing and marketing. What helps them inevitably helps us."
Instead of only text content, much of the site's valuable information can be viewed via web video, which further enables the learning process for all. In particular, within the "Barney's Uni" area, clients can discover everything from how to install a window decal, to what unique marketing materials are now available, such as trading cards and cardboard cut-outs.
Customers can also view Barney's Print Management's end-to-end process video; whereby Garry explains the method which converts overwhelming marketing and printing procedures into their time and money saving system. The expert print manager has also integrated a 7-stage quality control process into every single job, which gives both their weekly and occasional customers complete peace of mind.
Having such effective processes in place, combined with such a high level of customer care, Garry says Barney's is "an extension of their [customers] marketing department." And even though they have all the power behind them to fuel campaigns for large companies, "we're quite boutique in our customer approach. Each client gets personal service and attention."
Whether getting a free printing quote, enquiring about a major marketing campaign, or just wanting to learn what technical printing jargon means, Barney's Print Management website covers it all.
To visit the new website of the only Victorian printing company with a 100% satisfaction guarantee, go to: http://www.barneys.com.au/.
About Barney's Print Management
Barney's pride themselves on being a specialist team who manage your print process from concept to delivery. This means their one central point of contact for all your printing needs will save you in both the cost, and in the time taken, to organise jobs. This time and value savings creates a world of difference for Barneys' customers.
Barney's offers completely integrated client solutions, including: print management, signage options, promotional products, centralised storage of printed collateral and a distribution/freight network, both local and overseas, at the most economical rates. This system offers all your needs with a single point of contact.
With offices already in Melbourne and Sydney, they then established a presence in Guangzhou, China to ensure the products sourced meet with Australian quality expectations. Our staff in China are fully trained in Australian printing processes, with a very clear understanding or our quality procedures.
For more about Barney's Print Management, visit: http://www.barneys.com.au/about-us/