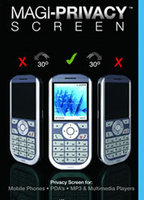 The Magi-Privacy Screen™ improves privacy and personal security on portable devices that we take for granted such as cell phones, multimedia players, PDA's and smart phones. The Magi-Privacy Screen™ is nothing short of an essential security gadget
London, UK (PRWEB) June 17, 2008
Cell-Savers is proud to introduce the Magi-Privacy Screen™ a new defence for screen privacy of digital devices. The Magi-Privacy Screen™ is a one-size-fits-all film that makes your screen appear black to onlookers.
Shoulder surfing is a major concern in the increasingly wired and mobile world. Consider the risks you take when travelling on public transport and using your PDA, digital camera, handheld device, cell or smart phone.
Commuting by bus or train or heading to a conference via plane might seem like an ideal private time to catch up on work or update your contact list. Sitting in a restaurant or walking through a shopping centre might seem like the safest place in the world. It could be quite safe until you begin text messaging someone or revealing private phone numbers to those around you.
The person next to you might appear to be minding his or her own business while in reality, that person is viewing your personal information. While the person might just be nosey, it is also possible that the person could be a stalker in the making.
If a person can read your text messages, that person can learn a great deal of very personal information about you. If you are browsing online, the onlooker can easily pick up your passwords and indulge in a little identity theft.
Shoulder surfing is not limited to public transportation and venues. It can happen in the office or at a meeting. Other employees and clients are often in a position where they can read the information on a screen even in a private office.
"The Magi-Privacy Screen™ improves privacy and personal security on portable devices that we take for granted such as cell phones, multimedia players, PDA's and smart phones. The Magi-Privacy Screen™ is nothing short of an essential security gadget," says Barmania. The screen has compatibility with almost all mobile devices, and fits portable screens up to maximum size of 4.5 inches.
The Magi-Privacy Screen™ works with the major brand name devices such as BlackBerry, HTC, LG, Motorola, Nokia, Panasonic, Samsung, Sony Ericsson, Toshiba, to mention but a few.
The screen can be applied without adhesives and is residue-free when removed. The screen has a grid that lets you apply it accurately. It also comes with instructions, a bubble-removing card and polishing cloth. It retails for £7.99 ($15.20 USD).
Cell-Savers future plans include the addition of the Magi-Privacy Screen™ filter for use on computers and notebook screens and the Magi-Mirror Screen™ which converts the screen of mobile devices in to a portable compact mirror. Both the Magi-Mirror Screen™ and Magi-Privacy Screen™ function as tough screen protectors, protecting the handheld device screen from damage caused by scratches and preventing glare.
About: http://www.MagiPrivacyScreen.com is a division of Cell-Savers™. Cell-Savers™ offer a range of innovative and high quality cell phone accessories. It has been supplying phone accessories online for retailers and wholesale since 1999.
# # #