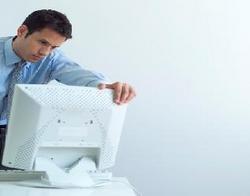 making something out of nothing
Norwalk, CT (PRWEB) November 12, 2007
Privacy Matters 1-2-3 (SM), a leading security and privacy membership program from Adaptive Marketing LLC, reminds its members that online banking safety has never been more important. With online thieves waiting for any opportunity to swipe banking and other personal information and spin it into instant profit, PrivacyMatters123 offers its members valuable tips to improve online banking security.
Computer hackers, identity thieves and other online miscreants can certainly be called "lowlifes," yet the folks at PrivacyMatters 123 know that they're anything but stupid. In fact, the art of "making something out of nothing" seems to have been perfected by these resourceful opportunists. Why spend time and energy "working" when it's easier just to make money ripping off the bank codes and passwords of others? Right?
That's why Privacy Matters 1-2-3 offers these watchwords and safeguards, designed to keep personal banking and financial information with its rightful owners:

Keep it private. The thing about public computers is that they're usually crawling with online thieves, those same people who can convert careless mistakes into big bucks instantly. So to beat hackers at their own game, don't make financial transactions on public computers, many of which may be located in libraries and full-service copy facilities. Also, try to avoid using wireless service when doing banking business. When in doubt, stick to a private, home computer.
Go with a middleman. When making purchases online, try to avoid using debit cards, and consider using credit cards instead. Better to have a middleman like an established credit card company between an online thief and a personal checking account. Besides, many credit card companies offer no-liability fraud protection as part of their service.
Don't get rooked. Online scams are so feared because they've been proven to work. Just ask the millions of people who get ripped off every year providing sensitive financial information to phony online bank operations. If a financial institution sends an e-mail relating to some sort of "urgent problem" with a bank account, use caution before relinquishing any information. It could be a trap.
Mix 'em up. Don't use the same user ID and passwords at different banks and other financial institutions. If a thief grabs one password that works the same for all accounts --- including any accounts with online merchants --- then he's got them all. So mix things up.
For these and other handy credit, identity theft and financially-oriented tips, finding help is as easy as PrivacyMatters123.
About Privacy Matters 1-2-3
PrivacyMatters 123 is a leading membership program offered by Adaptive Marketing LLC that offers consumers instant, online access to 3 in 1 credit reports and scores, daily Triple Bureau credit monitoring and more. Headquartered in Norwalk, Conn., Adaptive Marketing is a category leader in membership programs, bringing value direct to consumers through an array of benefits in healthcare, discounts, security, personal property and personals. Members may access their benefits at PrivacyMatters.com. With broad online and offline distribution capabilities, Adaptive Marketing offers its corporate client partners effective tools to enhance market presence, strengthen customer affinity and generate additional value through programs such as Privacy Matters 1-2-3.
###