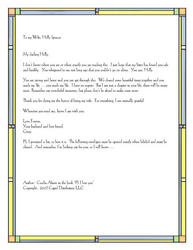 Private Letters can help family and friends through their loss. For those special days, you will be important in that person's life - even if you're not around
Melbourne, FL (PRWEB) December 18, 2007
Hilary Swank and Gerard Butler's new movie P.S. I Love You shows the enormous impact of simple words when a loved one is overpowered by loss.
Starting today, ItsMyLife.com is giving free access to its popular Private Letters service that makes it fast and easy to write, design and print personalized letters to be stored on a computer or kept in sealed envelopes in a safe place, to be opened only in case of death.
"Don't just watch the movie - write the messages, instructions, explanations of decisions and words of comfort that will make all the difference to loved ones left behind," says Liz Sayers, CEO of ItsMyLife.com
As Hilary Swank's character discovers, planning ahead for death can be a gift of astonishing kindness and value. The spoken word lasts only a moment, but the written word can last forever.
By writing a letter to be opened on an anniversary, graduation, wedding day or birthday, you change the future for someone you love, explains Sayers. "Private Letters can help family and friends through their loss. For those special days, you will be important in that person's life - even if you're not around," she said.
Anyone can go to http://www.ItsMyLife.com/ps.asp today, use free coupon code "PS" and start writing Private Letters now. Free access to Private Letters closes February 14, 2008.
About ItsMyLife.com
ItsMyLife.com enables anyone to create, view and print private and legal documents that are needed in case of death or serious illness.
# # #