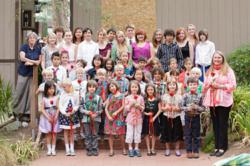 With the gift of a rose, each 8th Grade student begins a special relationship with his or her 1st Grade buddy
Altadena, CA (PRWEB) September 28, 2012
The Pasadena Waldorf School marked its 33rd opening ceremony by celebrating the beginning of a new 1st Grade class with their teacher, Blair Manzke. A beloved tradition at Pasadena Waldorf School, the Rose Ceremony occurs every year on the first day of school. This is a beautiful celebration during which the 8th Grade students welcome the 1st Grade students from the kindergartens into the "grades" by giving them a red rose. With this simple act, each 8th Grade student begins a special relationship with his or her 1st Grade buddy. The two classes join throughout the year to spend lunches and breaks together, carve jack-o-lanterns, decorate Easter eggs, and form meaningful bonds to last a lifetime.
Main Lesson teachers at Pasadena Waldorf School "loop" with their classes from 1st through 8th grade, creating a deeply meaningful and productive learning environment. As part of the ceremony, 8th grade teacher Ellen Levy also presented new 1st grade teacher Blair Manzke with a rose. Ms Manzke began the ceremony by telling a story about how an oak tree grows strong and tall, just like a child. The staff and faculty sang a joyful song as a gift to the children and community.
The entire ceremony completes its full circle when the 1st Graders return this glorious gesture by giving their special 8th grade buddy a rose at another Rose Ceremony that will take place on graduation day in June of 2013 to celebrate a new journey into high school.
Pasadena Waldorf School, founded in 1979, is private school in Los Angeles, one of over 1,000 Waldorf schools worldwide with over 90 years of experience offering an inspired education. Pasadena Waldorf High School, which opened this year, joins 40 other Waldorf high schools now operating in North America. Waldorf education is the fastest growing independent school movement in the world.