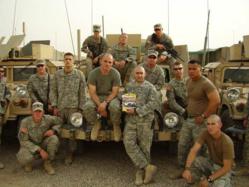 4 Wheel Parts' Operation Light Sabre reached the milestone in March of donating 1,500 light sets to our troops overseas.
Compton, CA (PRWEB) March 08, 2013
Prominent distributor and retailer of parts and equipment for the aftermarket off-road industry 4 Wheel Parts' Operation Light Sabre reached the milestone in March of donating 1,500 light sets to our troops overseas. Individuals, aftermarket companies and 4x4 clubs have contributed to help 4 Wheel Parts reach this landmark.
High-quality lighting is a necessity for night patrols scouring the desert and mountains for IEDs (Improvised Explosive Devices) and roadside bombs. Operation Light Sabre recently added the ability to make donations through Paypal and the Facebook page posts communications from members of the military. In the last seven years, Operation Light Sabre has donated lighting to troops in need of reliable equipment, and the recent mark of 1,500 sets of lights reflects a significant achievement.
Because IEDs remain the preferred weapon of terrorists and insurgents in Afghanistan, proper lighting on trucks is critical for nighttime mission success. Sponsored by Off-Road Adventures magazine and 4 Wheel Parts Wholesalers, Operation Light Sabre originated in 2006 when 4 Wheel Parts received a missive from the military. CPT Chris Braden, Company Commander in Operation Iraqi Freedom, wrote:
"We often have to travel on back trails or roads, traverse canals, and wind through tight villages, all while trying to spot improvised explosive devices (IEDs) and bombs. We continually lose trucks to IEDs and bombs that we cannot spot at night due to our lack of lighting (brightness and quantity) on our trucks."
4 Wheel Parts President and CEO Greg Adler responded, asking CPT Braden to specify the lights he needed. With 140 men and 22 trucks, CPT Braden determined that Explorer Pro Comp lights would best serve company's needs. Without hesitation, 4 Wheel Parts donated $5,000 worth of light sets with wiring harnesses and mounting hardware to the troops.
Denis Snow, the editor of Off-Road Adventures magazine has since started a campaign to seek donations from the readers of the magazine, from 4x4 Clubs, as well as from aftermarket companies in the off-roading market such as ARB and WARN Industries. Created in 1999, Off-Road Adventures magazine, covers the world of off-roading vehicles and activities, and is exclusively sent to customers of 4 Wheel Parts
.
Denis has also expanded the program to include a monthly column called, "In Touch With Our Troops" that promotes a dialog between our troops in need of lights and the reader/customers of 4 Wheel Parts. 4 Wheel Parts gathers donations from members of the 4x4 community, matches them and pays for the shipping.
About 4 Wheel Parts: 4 Wheel Parts is a retailer and service provider specializing in aftermarket parts for off-road and 4x4 enthusiasts. With 59 locations nationwide, 4 Wheel Parts supplements its retail centers with a robust mail-order and e-commerce distribution network to serve customers around the country and around the world. 4 Wheel Parts carries a large inventory of truck and Jeep parts, including Pro Comp Xtreme wheels, lift kits, catalytic converters and more.