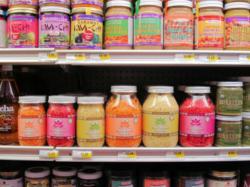 (PRWEB) June 14, 2013
A new article from eProbiotics.com describes how cultured vegetables provide the body with probiotics that strengthen the immune system and prevent many illnesses.
The article details how researchers continue to discover a seemingly endless number of health benefits provided by probiotics. Not only do probiotics, the healthy bacteria found in the digestive tract, support healthy digestion, they also support the immune system by fighting off secondary infections, protecting against the flu, and preventing outbreaks of eczema and the common cold.
Probiotics, or the good bacteria, make up nearly 85% of the bacteria in the body and are intricate in maintaining the balance that keeps the digestive and immune systems operating properly. Health issues, including infection, digestive disturbances, allergies and even the flu become more likely when the ratio of good to bad bacteria falls below 9:1.
The article includes information on several foods and probiotic supplements that provide adequate amounts of probiotics; including yogurt, sourdough bread, kefir, and cultured vegetables.
Many nutritionists consider cultured vegetables an ideal source of probiotics, containing large amounts of the healthy bacteria and providing much needed fiber, vitamins, minerals and other essential nutrients; making them an ideal food to support healthy digestion and immune system function.
The author provides specific information on probiotics and the immune system, including how they inflammation that results from byproducts of harmful bacteria. This inflammation is thought to contribute to weight gain, and is directly correlated to an increase in sugary and processed foods and a lack of probiotics in the body.
Probiotics are not only essential to a healthy digestive system, but also for supporting the immune system against 170 known health conditions, including irritable bowel syndrome, colitis, and the flu.
The full article on Cultured Vegetables and Probiotics Support Immune System Health is available at http://eprobiotics.com/cultured-vegetables-and-probiotics-support-immune-system-health/.
A free guide on cleansing foods and intestinal health is available at http://eprobiotics.com/free-report. The free guide has been made available to show people which natural foods they can begin to eat to increase healthy bacteria and improve overall intestinal and gut health.
About: eProbiotics.com is a new website that was launched in March of 2013 in order to educate the community in the importance of digestive and intestinal health and how maintaining a healthy balance of good bacteria can combat many illnesses.