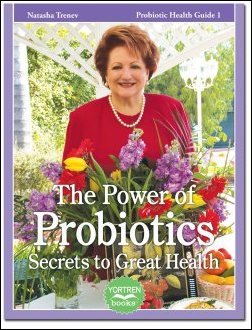 Moms and dads can start their children's lives with healthy bacteria that helps keep the intestinal tract slightly acidic and inhibits growth of germs, instead of waiting for their children to develop infection and then be forced to use antibiotics
Westlake Village, CA (PRWEB) April 9, 2007
"Put the healthy bacteria back in our children," says Natasha Trenev, founder of Natren and world authority on probiotics and health.
Healthy infants and young children, whose immune systems are not fully developed, ward off infection largely through a specific species of beneficial bacteria called Bifidobacterium infantis. Gut bacteria represents 70% of the human immune system and this specific species of beneficial bacteria affords unique protection in the first years of life.
"For infants, the introduction of food other than breast milk is a high-risk period for diarrhea and other digestive tract irregularities and is correlated with a shift in the healthy bacteria in the child's intestinal tract. This is an especially important time to employ Life Start, the only available source of Bididobacterium infantis, NLS super strain," says Natasha Trenev.
The natural strain of protective God-given bacteria, Bifidobacteria infantis, NLS super strain, that controls inflammation and kills off germs as they enter the digestive tract, must be continually replaced, especially when antibiotics are used, when babies are born by Cesarean delivery, when there is other infection during pregnancy (herpes, hepatitis, HIV), when traveling (especially overseas), when children receive immunizations, when diarrhea arises, or when children are weaned from breast milk, says Trenev. [FEMS Microbiology Ecology 2006 Dec; 58(3):563-71]
Bifidobacterium infantis in Life Start® is also beneficial for adults. This strain of bacteria has recently been found to be helpful for adults struggling with inflammatory bowel problems. [Biodrugs 2007; 21(1):61-3; BMC Gastroenterology 2006 Oct 28;6:31].
Only the Bifidobacterium infantis NLS strain, provided in Life Start®, has been shown to be effective in aiding bouts of diarrhea or recurrent bowel problems. American Journal Gastroenterology 2006 Jul; 101(7):1581-90. Bifidobacterium infantis strain has been emphasized over other bacteria strains as having anti-inflammatory properties. [Immunology 2006 Jun; 118(2):202-15]
"Moms and dads can start their children's lives with healthy bacteria that helps keep the intestinal tract slightly acidic and inhibits growth of germs, instead of waiting for their children to develop infection and then be forced to use antibiotics," says Trenev.
Life Start® can be added to infant formula or other beverages. To find out more about Life Start, visit http://www.natren.com or call a probiotic consultant at 1-866- 4-Natren (1-866-462-8736).
###