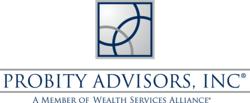 Both Ashley and Rick have already made a positive impact on our firm. We are delighted to welcome these two talented individuals to our team.
Dallas, TX (PRWEB) November 15, 2012
Probity Advisors, Inc.®, has hired two new associates, Ashley Allen and Rick Leeper, to help support the financial planning and custom portfolio management firm's continued growth.
Ms. Ashley E. Allen earned a degree in Finance from Louisiana State University in Baton Rouge, LA, where she was awarded the Golden Oaks Scholar Award for outstanding academic achievement and the Allison R. Kolb Memorial Scholarship given to an outstanding junior or senior who majors in banking or finance. Allen served as president of the Pan Hellenic Honor Society Rho Lamba, was a member of the Student Finance Association, and served as Vice President of Finance for her sorority. While in Louisiana, Allen volunteered at Junior Achievement Finance Park where she taught students essential personal financial and budgeting skills.
"I look forward to being part of the Probity team and embracing the firm's philosophy of providing truly customized wealth management solutions for our clients," said Allen. "I was drawn to Probity because of their commitment to integrity and honesty, and I am excited about the opportunity to learn from a highly experienced and credentialed leadership team," Allen added.
Outside of the office, Allen is a fan of LSU Football and enjoys traveling, running, and playing the piano. She recently moved to Dallas from Austin, Texas, and is enjoying exploring the Dallas area.
Mr. Rick Leeper is a native of San Antonio, Texas. He graduated from the Southern Methodist University (SMU) Dedman School of Economics in Dallas, TX, where he played on the SMU Club Lacrosse team. Leeper volunteered at Sam Houston Elementary School and the Texas Tree Foundation. He enjoys music, travel and golf.
Leeper will be combining his economics and finance background to help Probity expand its financial planning and wealth management practice. "It's exciting to be part of a team committed to helping our clients achieve their financial goals," Leeper said. "I am thrilled to help Probity provide dedicated and personal attention to each of our clients. Working with our management team, I will help ensure all of our clients continue to receive the same high level of service and attention they have come to expect from Probity Advisors."
President Porter L. "Buddy" Ozanne is equally thrilled to have two new talented team members on board. "Both Ashley and Rick have already made a positive impact on our firm. We are delighted to welcome these two talented individuals to our team."
ABOUT PROBITY ADVISORS, INC.
Probity Advisors, Inc. is a financial services firm based in Dallas, Texas. For more than 60 years, Probity has helped individuals, families and businesses manage their financial assets and resources in order to achieve financial independence and security. With expertise in customized portfolio management, financial and estate planning, retirement benefits consulting, risk management solutions and tax planning, Probity provides a comprehensive and integrated approach to managing and building wealth. Probity's team of Certified Financial Planners®, Chartered Financial Analysts®, and Chartered Financial Consultants® is committed to providing sound and unbiased advice to help clients optimize their complete financial picture with a coordinated estate, investment and tax strategy.
Contact: Cinco Calfee, (214) 891-8131 or ccalfee(at)probityadvisors(dot)com. For more information, visit http://www.probityadvisors.com/news.