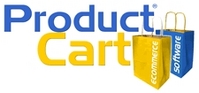 Mission Viejo, CA (PRWEB) November 19, 2008
Early Impact today announced the general availability for version 3.5 of its ProductCart shopping cart software, which now features more advanced search and navigation tools, and support for Microsoft Live Search cashback.
The latest version of ProductCart is focused on making the storefront easier and faster for customers to search and browse. Advanced features typically found only on large e-commerce stores such as "drill-down navigation" can now be turned on in just a few clicks thanks to new, smart store management tools.
"Drill-down navigation" consists of showing store visitors filters that are specific to a certain group of products (e.g. "Type", "Screen Size" and "Brand" for a television) when the store visitor clicks visits that product category or searches those products. Store visitors can easily narrow down or expand the list of products shown by adding and removing any of the shown filters. This allows for a better, faster shopping experience.
On the marketing side, the integration with Microsoft Live Search cashback brings to ProductCart-powered stores the ability to advertise their products on Microsoft Corp.'s popular comparison shopping engine, paying only when a sale happens. The commission on the sale can be set at the product level, and customers are reminded of the "cashback" that they would receive on the purchase when they visit the store, for higher conversions.
ProductCart version 3.5 adds many other new and improved features to an already robust e-commerce system. Among them:

New search options to optimize the way searches are conducted against large product catalogs
New visual effects via the Highslide™ set of JavaScript tools, including a new image gallery feature.
New affiliate program features, including the ability to set the number of orders placed by the same customer on which the referring affiliate should get a commission.
New support for downloadable product bundles through the Build To Order version of ProductCart
Improvements to the product configurator within the Build To Order version, including a redesign of the way ProductCart's unique Conflict Management system alerts customers of conflicts among selections
New filters for electronic coupons, which can now be restricted by customer category
Ability for the store manager to split products into separate packages when shipping an order
Redesigned Add and Modify product and category pages using a tabbed layout.
New payment gateways and improved integration with many existing payment ones
ProductCart v3.5 is available as a free update to all ProductCart v3.x users. For more information on what's new in ProductCart version 3.5, please visit http://www.earlyimpact.com/productcart/new35.asp
For more information on Microsoft Live Search cashback, please visit http://www.live.com/cashback
About Early Impact, Inc.:
Early Impact develops e-commerce software for small businesses. Its ProductCart line of shopping cart software is used by thousands of Internet stores around the world. Hundreds of Web design companies have chosen it as their e-commerce software of choice for building online storefronts for their customers. Early Impact is a privately owned California corporation, headquartered in Mission Viejo, CA.
About Microsoft Live Search Cashback:
With Microsoft Live Search cashback, Microsoft helps merchants maximize their advertising investments and drive more sales by providing consumers with an added incentive to buy -- a cash reward. Participating merchants pay Microsoft a percentage of the retail price each time a customer completes a sale through Live Search cashback, and Microsoft returns that fee to the consumer in the form of a cash reward. A complete list of Microsoft Live Search cashback partners can be found at http://www.live.com/cashback.
Media Contacts
Massimo Arrigoni
Early Impact, Inc.
marketing at earlyimpact.com
+1 (800) 804-1680 ext. 6
###