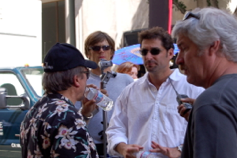 Working with such a contentious and creative staff throughout the years has been our secret to success.
Los Angeles, CA (PRWEB) November 20, 2012
Los Angeles based Make It Happen Productions (MIHP) is changing the video and film industry with their creative approach towards productions. Their work can be seen on today's major broadcast and cable networks. MIHP is currently completing post-production on 'Real Music Live' set to air on NBC following SNL in December and January.
In addition to MIHP's forte in integrated marketing and branding campaigns, traditional commercials, promotional content, and non-scripted television broadcast, MIHP is branching out into the scripted broadcast television and feature film world. MIHP delivers high-concept cinematic craftsmanship that represents their dynamic and visionary ideas.
Founded by seasoned Executive Producer Billy Frank, MIHP has two decades of experience in film and television production. From concept to branding to marketing through post-production, the experienced in-house creative staff works with major networks, studios and Fortune 500 companies delivering superior content with their all-inclusive production capabilities.
MIHP is currently in post-production on two specials of the upcoming show: 'Real Music Live', which will air on December 22, 2012 and January 12, 2013 on NBC directly following Saturday Night Live. Theses specials will include live performances from diverse acts such as Hoobastank and 'X-Factor's' breakout artist Chris Rene.
For more information regarding 'Real Music Live' please visit http://www.realmusiclive.com
MIHP is also currently constructing 'On Begley Street', a series with environmentalist, innovator and actor Ed Begley, Jr. and his family as they attempt to build the most environmentally sustainable home in North America. The first season will premier online in early 2013, with plans for the second season to air on PBS SoCal shortly thereafter.
For more information regarding 'On Begley Street' please visit http://www.onbegleystreet.com
"The high-quality team of creative professionals gathered together for this project especially encourages us. It is apparent that the importance of this project has attracted exceptional talent and assures PBS SoCal that the program has the team-building credentials to make this an outstanding presentation."
-Brenda Brkusic
Executive Producer,
Program Development and National Productions
PBS SoCal
MIHP often works with organizations including; Warner Bros., NBC, FX, Hershey's, Subway, Nikon, Ford, Career Builder, and SiriusXM Radio, to name a few. While other established production companies have closed their doors over the last few years due to the trying economic climate, MIHP has stayed the course, enabling them to solidify their standing in the entertainment industry and continue to 'Make It Happen.'
For more information about Make It Happen Productions please visit http://www.mihp.tv
About Make It Happen Productions
Make It Happen Productions (MIHP) is a fully integrated, multi-award winning production company servicing all major markets nation-wide and specializing in high-concept video and film projects – be they integrated marketing campaigns, traditional commercials, or non-scripted television. With almost two decades of experience, MIHP and Executive Producer Billy Frank take pride in creating high-end video and films with the upmost quality from concept through post-production. They proudly work with major broadcast and cable networks, ad agencies, directors, executive producers and business executives. The experience and creativity of their staff allow them to solve any problem, deliver high-quality productions.