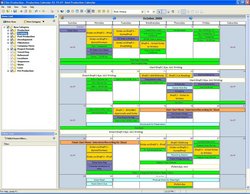 We have always tried to pursue solutions for our clients that either are not available in existing software or are difficult and expensive to come by for most. The new features added, especially the import of Final Draft, makes PCal valuable for not just the film making pros, but also for aspiring film makers everywhere, who want to import script timelines into their calendar software
Beverly Hills, CA (PRWEB) August 31, 2007
Reel Logix Inc. software releases the new 5.3 version of its popular calendar software The Reel Production Calendar.
The Reel Production Calendar version 5.3 provides a new and unique feature that allows the calendar matrix to grow to accommodate large numbers of events. This provides the clarity and ease of use of a calendar program with the display flexibility of a spreadsheet. The other significant new feature is the ability to import from Final Draft. Combined with existing features like web publishing, event filtering and powerful scheduling features like push and pull, linking and more, this scheduling software is truly a unique product in the calendar and production software markets.
The new Auto Sizing flexibility has been added to individual events as well as to the entire calendar allowing large amounts of text to be added to each event.
"We have always tried to pursue solutions for our clients that either are not available in existing software or are difficult and expensive to come by for most. The new features added, especially the import of Final Draft, makes PCal valuable for not just the film making pros, but also for aspiring film makers everywhere, who want to import script timelines into their calendar software," says Philip Robinson, CTO and Co-Founder of Reel Logix Inc.
Nik Korda, UPM of Charlie and the Chocolate Factory and The Lord of The Rings had this to say about The Reel Production Calendar software -- "Reel Logix has designed the calendar program that the film business has been waiting for. The program has been designed from the ground up to meet the heavy demands of 'Tent Pole' feature production. From time management of daily diary through importing shooting schedules, to viewing and printing calendars for distribution to the crew it is a complete tool for all your film production calendar needs."
This latest release continues Reel Logix's tradition of providing major updates to customers for free.
# # #