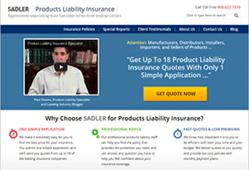 Offers an easy way to apply online once and get quotes back from up to 18 industry-leading insurance companies.
Columbia, SC (PRWEB) March 17, 2013
Sadler & Company, a nationwide insurance and risk management company based in Columbia, SC has unveiled their newly designed web site for their product liability insurance division.
The redesigned site, http://www.products-liability-insurance.com/, introduces a new contemporary look which features a more streamlined and informative user experience for start up companies, high risk product manufacturers, and distributors needing to get product liability insurance coverage.
The new website made its debut just a few weeks ago, and has already made an impact in the market, according to Paul Owens, the specialist who runs the product liability division of Sadler & Company, Inc.
"We've already received significantly more comments about how useful our short informational video on our home page has been for our target market. We see a frequent gap in the information available to help explain product liability insurance and the need for business owners to get adequate information to get the right policy for their needs," said Owens.
According to John Sadler, president of Sadler & Company Inc, the product's liability division of the company had three objectives for their new website: to offer useful and pertinent information and resources to help understand product liability insurance and why it's important; to allow business owners and managers an easy way to apply online once and get quotes back from up to 18 industry-leading insurance companies; and to help applicants find the policy types that fit their business model the most closely.
"One size does not fit all when it comes to product liability insurance," Sadler said. "There are common mistakes that are made frequently by applicants who don't know any better, and they wind up overpaying for coverage that they don't necessarily need. Or on the other hand, they may not have adequate coverage to protect them against the risks their unique business faces."
To find out more about the resources and information available on Sadler & Company's products liability website, or to apply online, go to http://www.products-liability-insurance.com/applications/ or call 1-800-622-7370 and ask for Paul Owens or the product liability department.
About Sadler & Company Product Liability
SADLER's Product Liability division specializes in providing product liability insurance to manufacturers, importers, distributors and home-based businesses. In addition to providing product liability insurance, Sadler also supports its clients by offering product recall, intellectual property, cyber liability, key man life insurance, business auto, workers compensation and property insurance.