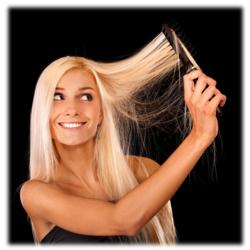 Long flowing hair was, and still is a key sign of health and youth.
NY (PRWEB) March 29, 2013
Hair Vitamins by Profoll.com, shuns extensions, expensive conditioners, and false looks used within today's busy schedules, and decided on a different and more traditional approach: To grow natural hair faster.
But what is the obsession with long hair?
Profoll, a new natural hair vitamin supplement program developed and distributed by Dencorp Ltd started its quest into hair vitamins by taking a step back in time.
By first going back in history to find out the reason why most women try to make their hair grow faster and spend so much time on the appearance, it revealed some interesting facts.
From the beginning of time humans needed hair to keep them warm, protect them from the weather, cuts and injuries, and provide camouflage.
Most of that is redundant in today's day and age, but the attraction qualities that hair possesses still applies.
Throughout evolution the female with the most impressive healthy hair, or she who could make it look that way, attracted the most male attention, and thus had the better chance of finding a partner to produce offspring.
Long flowing hair was, and still is a key sign of health and youth, to which men are attracted.
So the time and effort that women put into maintaining their hair today could be a result of genetic behavior passed down through evolution.
With the desire to steer women towards an all natural approach to achieving their results of long healthy hair, Dencorp decided that it had to start from within, combining a chapter from history, of a healthy diet that provides specific nutrients targeting hair growth, with today's modern day supplements they decided to develop a daily vitamin and amino acid program called Profoll.
Analyzing optimum levels of what is needed to grow healthy hair, or grow hair faster can reveal a diet of exotic foods that is often hard to keep up with in today's busy environment, which is why people are turning towards natural health supplements.
There are supplements for practically everything nowadays that make it convenient for people achieve their goal.
Combining specific supplements such as Biotin and PABA for hair can be tricky, and often expensive when purchased separately, which is why Dencorp decided to develop an affordable hair vitamin program to benefit people seeking fast healthy hair growth.
Although not as fast as clipping in a hair extension, the Profoll Team claim that the benefits and the confidence that natural healthy hair bring, far outweigh the little time it takes to grow.
For more detailed information about hair vitamins, ingredients, and facts and myths you can visit the Profoll site at https://www.profoll.com
About Profoll.
Profoll is a brand owned by Dencorp Ltd and was founded in 2012.
Profoll is a hair vitamin supplement developed and manufactured in the US, and sold worldwide to women that want to grow fast, strong, healthy looking hair.