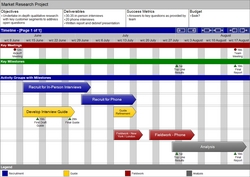 Swiftlight supports client interaction. You just project the plan on the wall as if you were working with a whiteboard, and get started.
London, UK and New York, NY (PRWEB) September 14, 2010
Swiftlight project management software is "the first tool" that consultants at Business Thinking Ltd. open up to sketch out the plans that solve complex business problems for their public and private sector clients.
"You don't get buy in unless everyone is involved – and working around the table is how you get everyone involved," said Neil Strange, managing director at Business Thinking. "Swiftlight supports client interaction. You just project the plan on the wall as if you were working with a whiteboard, and get started."
"You put the plan straight into it, capture ideas and edit as you go during the meetings. You can't do this nearly as effectively with paper and pen, or by putting yellow stickies on the wall that you have to photograph and then key into a planning tool."
Based in the UK, Business Thinking "is a successful international business strategy and performance improvement consulting company." Business Thinking's teams work with clients in the United Kingdom, Europe and the United States to improve business performance.
"These are not factory projects like software implementations that require an army of 70 people and three years," said Strange. "Rather, they are smaller, customized initiatives where we need to find practical management solutions that improve programs and projects."
As an example, the firm is working with the English education sector's Information Standards Board (ISB) to help set information management standards for education, schools and children's services.
"The work involves managing multiple projects in parallel. A recent example of the work involved is an initiative to help childcare providers and local governments channel childcare services to parents," said Strange.
"Through setting standards we can ensure data conformity across the sector. This makes it possible to aggregate provider details into a database, including information on pricing and vacancies -- and by providing a web service interface to that database, we permit a number of websites to query and present provider information based on search criteria, including geographic proximity. In the end, this makes it much easier for parents to find childcare services and return to work, it helps local authorities discharge their responsibilities to plan for sufficient childcare in their area, and it helps drive a more open and active childcare market."
"Business Thinking customers are interested in their subject matter, and they don't want to waste time on the mechanics of project management. They're unimpressed by detailed schedules and sophisticated planning tools – they just want to know in outline terms what is going to happen by when so they can feel in control of the project."
"And the sort of projects we do are those where you can't plan work for every day for every person," said Strange. "Things change, meetings get canceled, and if you plan in too much detail, then managing the plan itself becomes difficult and time-consuming!"
"For customer understanding and buy-in, and to avoid the trap of over-planning, you need to keep things simple. For example, I usually aim to plan each project in outline, and then add the details of a fortnight of activities, with one to two areas of work laid out. With Swiftlight, I can do this very easily. It presents one high level layer of activity in the timeline, with to-do lists under it where you need them. Add risk analysis and you're practically done."
"That's not the only way Swiftlight saves time," said Strange. "The bane of a project manager's life is to write progress reports. You have to stop work, stop progress, to write progress reports. With Swiftlight, press a button, it fills in the framework, you're ready to go, in a half hour. That took two or more hours before. As a result, we spend more time communicating with customers face to face instead of cranking reports. And it's better to spend more time with customers."
About Swiftlight
Swiftlight is a project management software application that saves time, creates clarity and gets results for its users. It offers a planning structure, high quality visuals and outstanding ease of use, and is a great alternative to traditional gantt chart software. Created to meet the needs of a broad range of business managers, executives and consultants, rather than just project management experts, Swiftlight is particularly well-suited to project planning and progress reporting for "smaller scale" or "less complex" projects.
For people who find Microsoft Project too complex, and managing projects in Excel and PowerPoint very time-consuming, Swiftlight can quickly generate clear, presentation-ready plans and progress reports for initiatives such as product launches, strategy reviews, operational improvement initiatives or annual planning.
For specialist project managers with larger IT, engineering or R&D projects, Swiftlight makes it easy to articulate and visualize "the big picture," with outputs that can capture timelines, objectives, deliverables and measures of success all on one page. Swiftlight also provides links to MS Project to simplify project reporting.
For more information, including a detailed product description and tutorial videos please visit the Swiftlight project management software website. Swiftlight is designed for desktop and laptop computers configured with Microsoft Windows 7, Vista or XP. A single user license can be purchased for $299. A free 30 day trial of Swiftlight is available here.
About Torridon
Founded in 2005 and privately held, operating from London as Torridon Solutions Ltd. and from New York as Torridon Solutions Inc., the mission of Torridon Solutions is to make life easier for managers and the companies they work for by designing, creating and distributing practical and innovative software for the world of planning, project management and management communication. Torridon Solutions has customers in 17 countries, predominantly in North America and Europe.
###