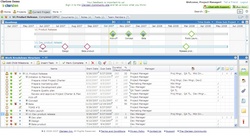 Clarizen's software-as-a-service project management solution has been a tremendous hit during its beta phase, and is already revolutionizing project management for growing companies around the world
SAN MATEO, Calif. (PRWEB) October 16, 2007
With Clarizen's Web-based project management solution SMBs can:
-- Get projects up and running instantly without the hassle of lengthy training, customization or software installations;
-- Drive adoption within the project team and ensure project data reflects reality;
-- Create virtual project teams consisting of all project stakeholders, including internal resources, outside partners, suppliers and other third parties, sharing knowledge and collaborating in one place;
-- Update the system directly via email on project task progress, without having to log in to the system (more info below);
-- Share knowledge through discussion boards and Wiki-like notes to discuss and collaborate on project activity;
-- Enjoy spending flexibility, as the software-as-a-service-based solution requires no up-front investments and no long-term commitments.
Today's commercial release of Clarizen follows a free beta program that included more than 1,500 organizations and more than 3,000 users worldwide, with 50 paying customers already signed on.
"Clarizen's software-as-a-service project management solution has been a tremendous hit during its beta phase, and is already revolutionizing project management for growing companies around the world," said Clarizen CEO Avinoam Nowogrodski. "Clarizen is tailored and priced to meet the needs of SMBs with easy-to-use features that deliver immediate business value through a Web service that makes collaboration across the globe as simple as teaming across the hall."
Clarizen also announced today the Beta release of its ProjectMail feature, allowing users to update progress on project tasks directly from their email Inbox without having to log in to the system. ProjectMail is currently available for free for users who do not have a subscription license to the full project management tool. The ease and familiarity of email reporting drives quick adoption among all project team members, while keeping costs low and still ensuring all progress is up to date.
"Too often, software for small business is a stripped down version of enterprise software. The SMB market is wide open for Clarizen right now, as they're one of only a few companies offering a powerful and practical solution to the segment," said Chris Shipley, technology and product analyst at Guidewire Group. "Coming out with 50 paying customers from a free beta is remarkable. It's great to see the impact that the beta and the user community has had on driving functionality in the final product - Clarizen is clearly poised to lead this high growth market."
Accelerance, a Silicon Valley-based outsourcing company that participated in Clarizen's beta period, found particular value in collaborating across organizations:
"Clarizen makes it easy for our clients in the U.S., U.K. and Australia to share project information with our software development partners in Asia, Eastern Europe and Latin America," said Steve Mezak, CEO of Accelerance. "We highly recommend Clarizen to any company that wants to ensure its globally distributed teams make project decisions based on the most recent data available."
Businesses and organizations can sign up now for Clarizen's 30-day free trial at http://www.clarizen.com.
About Clarizen
Clarizen is a leading global provider of on-demand, collaborative project management solutions that allow small-midsize businesses (SMBs) to easily manage all of their projects and resources in a single environment. Clarizen facilitates true team collaboration, ensuring project data is always up-to-date and aligned with business objectives. No complex software or hardware installations are required due to Clarizen's software-as-a-service (SaaS) structure, resulting in immediate business impact as teams and projects get up and running instantly. Clarizen's intuitive user interface and innovative email reporting capabilities ensure quick and smooth adoption by users, keeping everyone on track with up-to-date project data. For more information please visit http://www.clarizen.com.