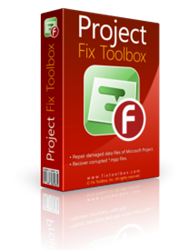 Project Fix Toolbox, an efficient and easy-to-use MS Project fix tool.
Sacramento, CA (PRWEB) March 20, 2013
Fix Toolbox, a well-known supplier of various recovery tools and file repair solutions, presents Project Fix Toolbox, an MS Project fix tool intended for the mass market. The software helps companies and individuals to save time and money by enabling them to recover data from damaged Project *.MPP files without resorting to the services of companies specializing in data recovery.
Created for both professionals and users with no particular experience with data recovery principles, the software features an intuitive, user-friendly interface that requires a bare minimum of user's involvement and simplifies the process to a series of straightforward steps of the built-in recovery wizard.
Project Fix Toolbox supports documents created in all major versions of MS Project, from 2000 to 2010, and efficiently restores projects, tasks, resources and relations between them. Prior to recovering data, the program shows the user a table with a list of objects it managed to recover. The program has an extremely compact size, takes seconds to download and install and does not require any additional components except MS Project itself, since recovered data are passed to the program for editing and saving.
Our program has demonstrated top-notch recovery efficiency and the feedback we've received about our MS Project fix tool has been excellent. This said, we could not but continue the development of this product and release this update featuring an updated file analysis algorithm and the same convenient interface that so many users out there have come to appreciate," says Boris Bobrov, Product Manager at Fix Toolbox.
Project Fix Toolbox is available for free tryout at official site http://www.project.fixtoolboxx.com
Trial version displays all data to be recovered which makes possible to make sure that Project data is still inside damaged file.