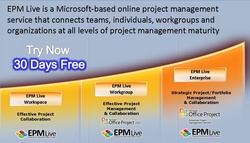 The EPM Live Workgroup solution brings the world's leading project management software to the entire work team. Microsoft is excited that EPM Live Workgroup's straightforward solution brings the benefits of Microsoft Office Project 2007, to a wider range of customers
SEATTLE (PRWEB) October 31, 2007
"The EPM Live Workgroup solution brings the world's leading project management software to the entire work team. Microsoft is excited that EPM Live Workgroup's straightforward solution brings the benefits of Microsoft Office Project 2007, to a wider range of customers," said Mike Angiulo, General Manager of Microsoft Project Business Unit. "An increasing number of customers are attracted to Software + Services for its usability, price, and fast deployment. This solution combines the best of Office Project 2007 with the flexibility of online services empowering everyone on the work team to collaborate more effectively. Whether they call themselves project managers or not, this tool helps leaders get their teams collaborating toward a common goal."
Typically project managers utilize Microsoft Office Project to plan and manage projects but rely on email and spreadsheets to collaborate with their teams. Now, Workgroup empowers everyone on the team to update the status of individual contributions giving project managers real time data to keep their projects on course to success.
EPM Live's two other solutions: Workspace and Enterprise deliver online Microsoft technology ranging from straightforward collaboration workspaces in Windows SharePoint Services to full featured online Microsoft Project Server-based EPM solutions.
EPM Live adds to the growing list of Microsoft-based Software-Plus-Service offerings. Instead of simply selling software licenses, EPM Live offers a range of online collaboration services with flexible pricing options. These full-featured out-of-the box solutions take pressure off in-house IT resources while placing tools in the hands of project managers to successfully manage projects.
About EPM Live:
EPM Live is a leading provider of Microsoft-based project collaboration solutions. Working in close partnership with Microsoft, the company has introduced premier project management tools into the fast growing sector of Software + Service. EPM Live's mission is to provide cost-effective, online tools that help project teams collaborate effectively, achieve higher levels of project ROI and drive project success. Founded in 2007, EPM Live is privately owned and headquartered in Carlsbad, California. http://www.epmlive.com.