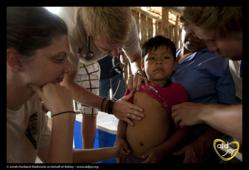 Ft. Lauderdale, FL (PRWEB) March 22, 2013
Project Amazonas will be holding a medical service expedition in the Peruvian Amazon from April 20th through May 2nd, and are calling for medical and non-medical volunteers to fill the limited spaces available. The expedition is boat based on the Nenita riverboat, and will be traveling to the Ampiyacu River, home to a number of Bora, Huitoto and Ocaina Indian communities. The expedition will also be visiting the historic town of Pevas - one of the oldest towns in the Amazon, and where renowned Peruvian artist Francisco Grippa has his studios.
The trip will be anchored by a Peruvian MD and Peruvian dentist, and several advanced medical students have already signed up. For non-medical volunteers, there is still plenty to do - from registering patients, collecting community data, assistance with the pharmacy, maintaining inventory, entertaining or distracting community children and the like.
Project Amazonas will be traveling from community to community, holding clinics in the local schools, but volunteers will also have time for jungle exploration, fishing, swimming, kayaking, photography, activities with community children, and just getting to know people in the communities in general. Having conversational Spanish is very helpful, but not essential.
The starting point will be Iquitos, Peru. Volunteers will be required to secure their own travel arrangements. Expedition costs are $975 for medical/dental students, and $1825 for others. This includes all meals, transportation, bedding, and other amenities while aboard the Nenita Riverboat. A portion of the funds is also used for the purchase of medications for the trip. The organizers are happy to give advice on flights, assist with any needed hotel reservations in Iquitos, and other information.
Spaces are filling up quickly, and the group is looking forward to a great trip. This will be their third visit to the communities on this river, and the response in the past has been very welcoming and appreciative. Volunteers should note that this is quite a remote area and there will be no cell phone signal or internet for most of the trip. Project Amazonas always carries a satellite phone for emergency use should volunteers need to communicate.
For more information, or to sign up, please view the documents here: http://www.projectamazonas.org/files/docs/medical-trip-information.zip.
About Project Amazonas
Project Amazonas focus on practical solutions that better the lives of people living in the Peruvian Amazon while simultaneously helping to conserve the natural resources and wonders of the rainforest. Our approach combines education, medical care, research and conservation. Currently we operate 8-10 medical expeditions annually, operate three biological field stations/conservation areas open to researchers and visitors, and host academic courses, as well as supporting Peruvian student research. We also support local education and sustainable development initiatives in the communities with which we work in the Amazon. Project Amazonas is a 501(c)3 organization registered in the State of Florida, and is also recognized at the national level in the Republic of Peru. Among our various affiliations, we have formal agreements of cooperation with the Peruvian Ministry of Health, and with the National University of the Peruvian Amazon.