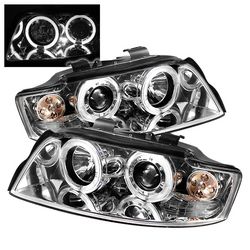 City of Industry, CA (Vocus) July 29, 2010 –
Projector headlights have been mainstream standard features or options for vehicles built after 2003. Unlike traditional headlights, projector headlights have a lens and shade outside the reflector. The lens and shade cut off the top edge of the projection and make the lighting output focused on the road without blinding the driver from the opposite side of the road. As a result, night driving vision is dramatically improved, leading to safer driving conditions.
CarPart4U.com has long recognized the importance of projector headlights, and is proud to be one of the premier online retailers of both projector headlights and other aftermarket headlights. As an affordable alternative to other headlight replacements, the projector headlights offered by CarPart4U.com can be found at prices as low as a third of the cost of OEM headlights, which often don't provide the same caliber illumination as a result of their design. Additionally, the projector headlights sold by CarPart4U.com are available in a number of attractive designs and styles, including "R8" styled housing with bright LED strips, and "Angel Eye" which use lighted halo rings around each projector beam.
For years, CarPart4U.com has been offering projector headlights, among other car lights and accessories, for exceedingly affordable prices. The team at CarPart4U.com understands that, beyond quality, its customers return for the peerless customer service they provide. Whether purchasing a new cold air intake, performance headers, or a set of projector headlights, CarPart4U.com fully stands behind the quality of its products. Additionally, they offer among the lowest prices online, at up to 60% off retail prices. And, with free shipping on all orders, CarPart4U.com is the number one stop for automotive products online.
With CarPart4u.com's large collection of car parts and accessories, customers are guaranteed the highest quality the company has to offer. Contact Carpart4u.com for more information and an enjoyable shopping experience.
About Carpart4u.com
Based in City of Industry, CA, Carpart4u.com is a wholesaler of car parts and accessories. With top quality products such as headlights, tail lights, lightbulbs, car systems, and styling accessories to name a few, Carpart4u.com backs all its products with a low price guarantee and free shipping in the 48 states. Press release produced by Cybertegic.com- an internet marketing services agency that specializes in search engine optimized press release marketing (SEO marketing).
###