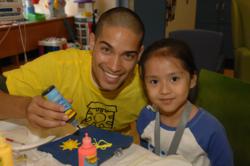 Project Sunshine recruits and trains a corps of compassionate volunteers who dedicate time and talent to children facing medical challenges
NY (PRWEB) March 19, 2013
Project Sunshine, a New York City-based charity, celebrates "Project Sunshine Month" in April by raising awareness and support for the organization through a series of events and programs. Project Sunshine also recognizes its volunteers during Project Sunshine Week, April 25th through May 2nd, an annual week of service that will culminate with Project Sunshine's 10th Annual Benefit to be held on Thursday, May 2nd.
"Project Sunshine recruits and trains a corps of compassionate volunteers who dedicate time and talent to children facing medical challenges," said Beatrice Kernan, Executive Director, Project Sunshine. "The month aims to celebrate and honor the tireless efforts of the thousands of trained volunteers, sponsors and community members who strive to bring sunshine into the lives of these children and their families."
For more than a decade, Project Sunshine has been bringing its own form of light to the city that never sleeps. During this special month, both national and local businesses will band together to raise funds and awareness for the organization. Born out of the vision of one college student, Project Sunshine has grown into a global network of volunteers who bring free educational, recreational and social programs to children and families in hospitals.
On Thursday, May 2nd, Project Sunshine will host its 10th Annual Benefit, "Project Sunshine Celebrates 10 Years of Evenings Filled with Sunshine." The event will honor Legendary Grammy Award-Winning Artist and Humanitarian Dionne Warwick. Maurice DuBois of WCBS-TV and Cat Greenleaf of WNBC-TV will emcee the evening. The night will also include celebrity appearances on the Project Sunshine "Yellow Carpet," including Sports Illustrated models, Miss Universe, Miss USA, Miss Teen USA, sports celebrities, cocktail hour entertainment by Ace Greenberg and his Merry Magicians, musical performances and much more.
An Official New York City Celebration
The city will show its support for Project Sunshine with proclamations from New York Governor Andrew Cuomo and New York City Mayor Michael Bloomberg declaring April 25th – May 2nd as Project Sunshine Week. In addition, Project Sunshine banners will be displayed along 42nd Street in midtown Manhattan.
Exclusive Partners Raise Awareness and Support
In celebration of Project Sunshine Month in April:
Helen Ficalora has designed a 14k gold Sunshine Charm sold in her stores nationwide with 25% of proceeds going to Project Sunshine during April and throughout the year. She has also created a sterling silver Sunshine Charm, with 100% of the proceeds benefitting Project Sunshine throughout the year, available at http://www.projectsunshine.org.
Judith Leiber, an American luxury brand, has created a Project Sunshine mirror with 10% of sales to go to Project Sunshine.
About Project Sunshine
Project Sunshine is a nonprofit organization that empowers a dynamic and dedicated corps of over 15,000 volunteers to bring programming – recreational (arts), educational (tutoring and mentoring) and social service (HIV and nutritional counseling) – to over 100,000 children facing medical challenges and their families in 175 major cities across the United States, and in five international satellite sites: Canada, China, Israel, Kenya, and Puerto Rico. Project Sunshine is dedicated to bringing a ray of hope to these hospitalized children. Project Sunshine Week is a week dedicated to raising awareness and support for the organization through a series of events and programs. For more information and ways you can get involved, visit http://www.projectsunshine.org.
###