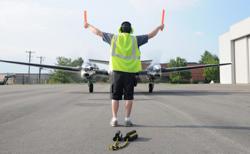 We are working very hard to bring a new level of hospitality to the aviation community
Leesburg, VA (PRWEB) May 07, 2013
ProJet Aviation, an aviation hospitality company based at the Leesburg Executive Airport, scored high marks in the FltPlan.com annual Pilots' Choice Awards, which recognizes Fixed Base Operators (FBOs) that provide outstanding arrival and departure services for private and business aircraft at more than 5,000 US airports.
ProJet Aviation's Leesburg FBO (ProJet Center) earned a #3 ranking in the Ace category, representing airports with less than 3,100 arrivals per year. ProJet also ranked 4th in the Northeast and 41st overall in the country for FBOs across all categories.
"We are working very hard to bring a new level of hospitality to the aviation community in DC and Leesburg," said Julie O'Brien, Director of FBO Operations, "This is a great affirmation that we are earning the business, one arrival at a time."
Leesburg Executive Airport (KJYO) is the closest general aviation airport to Washington DC, the Dulles Technology Corridor, and Virginia's growing horse and wine country. ProJet Aviation recently expanded their FBO capabilities through the acquisition of Landmark Aviation's Leesburg FBO in October 2012. In addition to FBO services, ProJet provides aircraft management, maintenance (MRO), and worldwide charter operations.
"This is an incredible honor for ProJet, and a direct reflection of the intense customer focus of our FBO Team," said Shye Gilad, CEO of ProJet Aviation.
The 2013 Pilots' Choice Awards survey was open to the group of over 120,000 active pilots on FltPlan.com, representing over 65% of all business aviation.
###
About ProJet Aviation:
ProJet Aviation is the DC metro region's premier aviation hospitality company, dedicated to helping people accomplish extraordinary things through the wonder of private flight. ProJet's fully integrated services include aircraft management, maintenance (MRO), worldwide charter, and flight support (FBO). The company operates ProJet Center FBO at Leesburg Executive Airport (KJYO), general aviation gateway to Washington DC, Dulles, and Virginia's Horse & Wine Country. Established in 2007 as a partnership between former airline pilot and entrepreneur Shye Gilad and noted entrepreneur and philanthropist Sheila C. Johnson, Founder & CEO of Salamander Hotels and Resorts, ProJet Aviation combines the operational integrity of the world's best airlines with the refined service of a world-class resort. ProJet is a member of the Air Charter Safety Foundation (ACSF), holds an ARGUS safety rating, and is one of the few operators certified to conduct charter flights into Washington Reagan National Airport (KDCA). ProJet's numerous accolades include recognition as a Washington Business Journal Best Place to Work, Loudoun County Chamber Service Business of the Year, and an Inc. 500/5000 Fastest Growing Company.