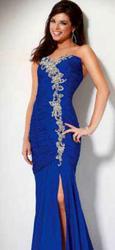 If you can't find your dress here, it probably hasn't been made yet!
Dallas, TX (PRWEB) March 12, 2013
Whatchamacallit, a Dallas/Fort Worth evening gown and special occasion dress store, is excited to announce their Spring Break Specials. The specials will last two weeks from March 9 – 23. These sales are the last of the prom season and Whatchamacallit will have different deals daily.
At both of the Whatchamacallit locations at 14999 Preston Road in Dallas, and 4601 W Freeway 400 in Forth Worth, there will be Spring Break Specials on the current prom inventory. During these two weeks most of Whatchamacallit's stock will be sold. Some of the deals customers can find include, Buy three accessories get the fourth free, half-price shoes, and Terrani Tuesdays. Terrani dresses are known for their glamorous styles and are often seen on celebrities.
To catch the biggest sales of prom season and to make sure they don't miss out on that perfect dress, customers should be sure to visit one of the Whatchamacallit locations from March 9 – 23. While browsing, customers can find out all the current and upcoming daily deals for the Spring Break Specials promotion. In addition to the best selection of prom dress in the Dallas/Fort Walton area, Whatchamacallit carries accessories like necklaces, earrings, rings, and handbags, making them a one-stop-shop for everything a girl could need for the prom.
About the company:
Whatchamacallit Fashions has over 35,000 dresses in stock for any occasion. Need that perfect outfit for Homecoming or a special occasion? Whatchamacallit has all the accessories to compliment evening gowns and formal wear, social occasion dresses, pageant dresses, homecoming dresses, and prom dresses. At Whatchamacallit customers are treated with world class service as they find that perfect look for the perfect moment. There are two Whatchamacallit locations, one in Dallas and another in Fort Worth. For a more in-depth look at their dresses and styles, please visit: http://www.whatpromdressdfw.com/