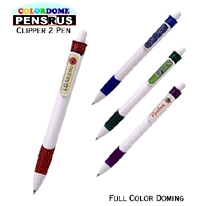 PENSRUS is proud to be one of the top suppliers of ColorDome pens and promotional products
New York, NY (PRWEB) January 18, 2010
PENSRUS, a leading provider of top quality personalized pens and other custom logo products has announced the expansion of their ColorDome product line. Customers will now have an even greater selection of promotional pens and other ad specialty products to meet their unique needs.
The ColorDome products carried by PENSRUS includes a full line of different style quality custom pens constructed from both plastic and metal perfect for imprinting or engraving corporate logos. Additionally, customers can special order custom ColorDome key tags, bottle openers, highlighters, pocket knives, measuring tapes, badge holders and other advertising specialty products.
All ColorDome products offer the unique "color doming" method of imprinting or engraving which offers extremely high levels of print quality and clarity. Manufactured using a unique epoxy dome color process, the color imprinted on the pens and other products achieves an unrivaled brightness and shine. PENSRUS customers do not have to pay a logo or setup charge either on their orders and order minimums are quite low.
"PENSRUS is proud to be one of the top suppliers of ColorDome pens and promotional products," comments PENSRUS CEO Henry Morgan. "The attention to detail, superior imprinting and long lasting materials used bring a tremendous value to anyone looking to commemorate a special occasion or brand their organization."
For more information and a full listing of ColorDome pens and other ad specialty products, please visit the PENSRUS Colordome products page.
About PENSRUS
PENSRUS is a world-leader in the advertising specialty industry providing a huge assortment of personalized and promotional products including personalized pens, pencils, sticky notes, mouse pads and more. Founded in 2001, PENSRUS has helped thousands of companies increase customer loyalty and brand awareness through their quality products.
###